Want to know what evil things those Facebook apps are up to? Secure.me has the answer. The security company's free App Advisor browser plug in gives you the 411 on more than 500,000 Facebook and Chrome apps, rating them for how much data they collect and what they do with that data, as well as what users think of them.
Just install the extension into Chrome, Safari, or Firefox.  When you install an app in Facebook – or the first time you launch it -- App Advisor slides down from the top of the browser window and gives you a quick summary of how good, bad, or ugly that app is, based on these ratings.

Click the View Details link to launch a new browser page listing what data that app collects and what happens to it. You can even submit your own capsule review of each app, though where those things end up is a mystery to me. You can also search the apps.secure.me site by app to pull up ratings.
Words With Friends, for example, is rated Medium. It gets low marks for Permissions because it asks for six pieces of data, including your email address. It gets mediocre ratings for App Behavior because it nags your friends to install it after you do. But users enjoy playing it and rate it 4.3 stars out of 5, which raises its overall score to average.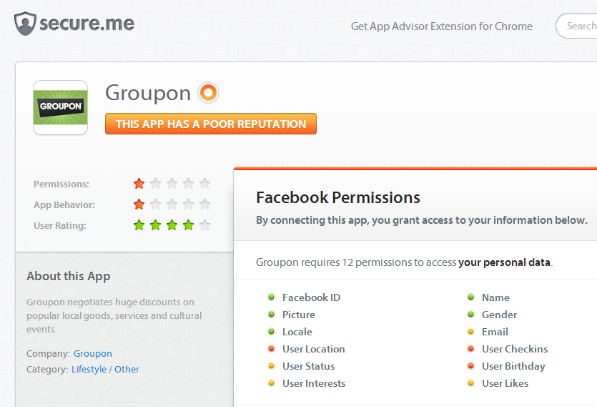 Groupon, on the other hand, is rated Poor. It wants 12 pieces of data when you install it, including your location, checkins, and birthday. After install it sends email, posts on your wall, and on your friends' walls. And though like WWF it gets a 4.3 score from users, that's not enough to offset its data gluttony.
Pinterest has a "Very High" reputation (which makes no grammatical sense, but Secure.me is a German company, and its command of English isn't always on target). Why? It collects a minimal amount of information and people love it, for reasons that escape me.
Scraping the bottom of the Facebook barrel are apps like "Inspirational Quotes," which are clearly designed with data mining in mind. IQ collects 17 pieces of information about you (including your religious and political beliefs) and can access all your friends birthdays, locations, work histories, and other personal data. You'd have to be a special kind of idiot to install apps like this, but apparently there are a lot of them – Inspirational Quotes claims to have more than 320,000 monthly users.
Admittedly, App Advisor's ratings are a bit crude. Some apps require your email address or location in order to do what they do. And it would be nice to know how many users rated Pinterest 5 stars; was it 20 users, or 20,000? That makes a big difference.
But does Groupon really need to know my status, interests, Likes, and birthday? I think not. Would anyone who values their data in any way ever install an app like Inspirational Quotes? I hope not.
For information like that, App Advisor is invaluable. 
Got a question about social media? TY4NS blogger Dan Tynan may have the answer (and if not, he'll make something up). Visit his snarky, occasionally NSFW blog eSarcasm or follow him on Twitter: @tynanwrites. For the latest IT news, analysis and how-to's, follow ITworld on Twitter and Facebook.
Now read this:
Facebook's 'man in the middle' attack on our data
Making Facebook private won't protect you
How to keep hackers out of your Google, Facebook, and Twitter accounts