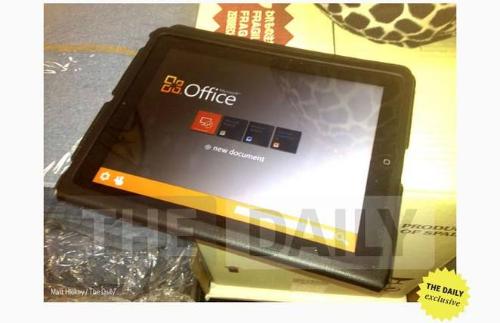 You see rumors everywhere around the web, but on this page, every week, you only see rumors that we think are worth more than a big headline. This week, we're digging into Office on the iPad, the iPad's supposedly revealed guts, and a suggestion that Android 5.0 wants to run on your desktop, too--kind of.
Here's one that came true overnight: Barnes & Noble is selling an 8 GB version of their Android-powered Nook tablet for $199, through Wal-Mart and B&N's own retail channels. It's intended to compete with the Kindle Fire, and in many ways, the Nook is a worthy competitor, with more space offered to store non-Nook content than the fairly Amazon-bolted Fire.
Microsoft almost ready to release Office for iPad
Source: The Daily
Details: Word, Excel, and PowerPoint would, in the coming weeks, pending Apple's App Store approval, be available on the iPad. One could create new files, edit files saved in the Office Web Apps/SkyDrive cloud (and, presumably, files picked up from email or Dropbox or elsewhere), and finally justify the purchase of a travel-ready Bluetooth keyboard.
Likelihood: Tricky. Microsoft flat-out denied the rumor to the New York Times, although the way it reads, they could be denying the existence of the particular app in the image shown by The Daily, and denying the specifics of the rumor, not the existence of the app itself.
Get excited?: Personally, I think it makes sense for Microsoft to release Office for iPad, even if it's likely a key app for upcoming Windows 8 tablets. They'll need to sell Windows 8 tablets on something beyond "Edit your spreadsheets on big ol' glass," anyways. Don't be surprised, at least.
iPad 3 has a bulkier case and two times the iPad 2 resolution
Source: M.I.C. gadget, a blog that TechCrunch says has been reliable in the past.
Details: With just a few weeks to go until the expected launch of the iPad 3, images of the glass, the side buttons, and close-ups of the pixel density for the iPad 3 have apparently leaked out of a Taiwanese maker of LCD backlight units. Besides confirming the notable resolution bump, the case for the iPad 3 looks to be a big thicker than the 2.
Likelihood: The double-density pixels are all but a confirmed among the tech press at every level. The thicker case? That's a more recent rumor, and one that doesn't seem very Apple-like, unless you think Apple needs more space for heftier guts, a 4G LTE radio, and more battery life. And those are the only reasons Apple would ever allow for a device line to get larger.
Get excited?: If you're already hedging your gadget money on the iPad 3, then this is just another confirmation that it's coming, and that it looks crisp.
Android 5.0 to feature desktop docking
Source: Mobile-Review blogger Eldar Murtazin, somewhere inside a lengthy blog post written in Russian translated, awkwardly, here.
Details: Building on the Webtop platform developed by Motorola, and used in previous phone-but-also-a-mini-laptop devices like the Atrix, Android 5.0 would allow for docking a phone to a desktop for use of files, but also app data syncing, perhaps some full-screen Android app use, and more.
Likelihood: Murtazin has been the source of a few reliable rumors for the Android community, and Google's acquisition of Motorola makes a certain amount of sense in that regard. But I'd bet that the Android-to-desktop docking will be much more minimal than the headlines imply.
Get excited?: How to put this nicely? If you're used to spending $600 for off-contract, just-out, Google-branded phones, then, sure, look to the summer to see Android 5.0 "Jelly Bean." If not, you'll wait at least a year, like the rest of us.