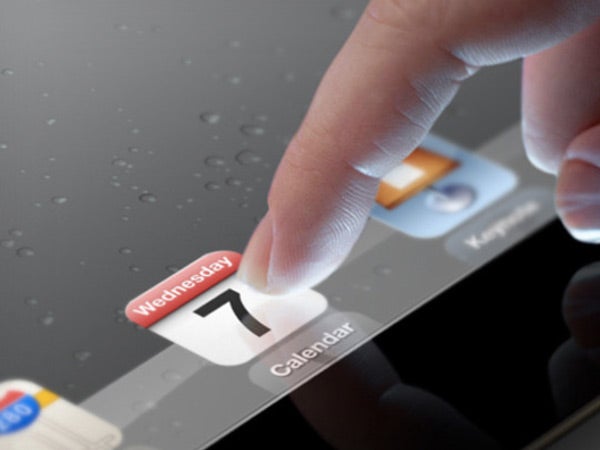 Apple's rolling a new something today -- but what is it? Ha ha, just kidding, we know it's a new iPad, probably. But will it be named the iPad 3 or iPad HD? Will it be more expensive or cheaper than the existing models? What new features will it sport, and how disappointing will they be to everyone? Find out as I liveblog the event! Refresh this page constantly, for updates.
12:50: Ten minutes to showtime! If, like me, you aren't at the event but want to follow along at home, check out this list of liveblogs from ZDNet. Hopefully some of them won't crash!
12:52: (Speaking of crashing, my own work computer, a MacBook Pro, just kernel panicked while I was setting up this blog, forcing me to switch over to my personal laptop. Irony? Should I be updating this on an iPad, somehow?)
12:55: To quckly recap what everyone thinks is going to happen: incrementally improved iPad, with faster chip, higher-resolution screen, maybe with 4G connection. Maybes: iPad 2 still on sale as lower-end, cheaper version; some kind of Apple TV announcement?
1:03: Tim Cook is out! And he's saying "Post PC" many, many times, just in case you thought maybe there'd be some Mac announcements today.
1:06: Brief video about Apple Stores. "This is where you will be spending too much money on the thing we're about to give you. You cannot resist!"
1:07: Boasting on sheer numbers of iOS devices, and Siri ... will Siri be on the iPad? Or should we just know that it's awesome? Announcement that it's coming to Japan today.
1:09: Aaannnd now we're on the app store. I guess they've been selling a lot of these so-called "apps"? Who knew.
1:11: A ha, first big announcement! iCloud now supports movies! 1080p movies! Which run on the new Apple TV!
1:13: Apple TV's new interface looks more like standard iOS (but still isn't quite standard iOS). (What I want to know is: How easy/hard is it to play movies that aren't from iTunes Store?)
1:16: New Apple TV is same form factor and same price ($99).
1:17: Wasting no time, getting right to the iPad. Now talking iPad sales numbers. (They are large.)
1:18: iPad was meant to be a new "category," says Tim Cook -- which means there will be several of them, maybe? Now he's claiming that iPad users like using it best for reading books and doing email.
1:19: ... and that gamers like it for gaming better than they like their consoles. I am very curious about the selection process for this focus group.
1:21: Haha, Tim is talking up the App Store by showing apps on an Android tablet and talking smack about how ugly they are. I can't remember anything like that at an Apple product rollout before.
1:22: And now: The new iPad! That's what the sign says. "The new iPad." No product name?
1:24: WOOO PHIL SHILLER IS HERE TO SHOW US THE NEW IPAD! It's got a retina display, for one thing, and Phil says you can't understand how awesome it is unless you see it. (We don't have any pictures of it, though, so you'll have to take our word for it.)
1:25: 2048 x1536 pixels -- better than 1080p. Also, 44 percent better color saturation, for however that's quantified.
1:27 An A5X quad-core processor runs the thing! We know how that's quantified: they count the cores. There will be four of them!
1:29: A metajournalism sidenote, it's fun to watch the various liveblogs buckling under the weight of the traffic. Engadget's is holding up pretty well.
1:31: Now Phil is boasting about the camera, which shoots 1080p video, for those who want to enjoy the amazingly awkward form factor of a tablet-shaped camera.
1:32: Hmm, voice dictation! A microphone button at the bottom of the keyboard everywhere the keyboard comes up. Could be great, could be useless, depending on how well it's implemented.
1:33: Oh, and: LTE 4G! Get ready to use (and pay for) lots of data, everybody. Up to 73 Mbps, no biggie.
1:35: It'll be available on both AT&T and Verizon.
1:38 Ooh, it can also serve as a personal hotspot! Sounds awesome, wait till we find out how much the carriers are going to double-charge us for the same data when we try to do this.
1:39: The biggest knock on 4G is often battery life ... but the new iPad will still get 9 hours on 4G, just like on 3G, through some kind of devil magic?
1:40: Actually, at 1.4 pounds it's a little heavier than the iPad 2, so I guess no magic after all. It IS magically priced, though! Still starting at $499 for 16 GB of storage and Wi-Fi, $629 for low-end 4G model.
1:42: Pre-orders start today, shipping on the 16th in the US and several other countries, 23rd in many other places.
1:43: Now Phil is showing off what you can do if you program specifically for the new display on your app. (Don't worry, existing apps will get upscaled text and graphics, just like happened on the iPhone 4.)
1:45: Some sweet video game action happening on stage. Again, you'll have to take our word for it. For now, it's worth mentioning that the form factor looks more or less like the iPad 2 (complete with home button, which some said would be eliminated).
1:48: Showing off a drawing program from Autodesk now. BTW, here's a pic of Tim standing in front of the big reveal, with the sign saying "The new iPad." Still seems like a weird product name to me, though maybe in practice they'll just be calling it the "iPad," like the current model of the iMac is always the iMac. Dropping model numbers/names does seem to imply that we won't be selling iPad 2s on the cheap.
1:53: And now we're in the midst of another video game demo. Am I a bad tech journalist/nerd because I find these boring? One fun fact is that the new iPad apparently has more memory and screen resolution than the Xbox 360 or PS3.
1:55: And now, iWork. (Yes, I find talk about office suites more interesting than video games, I am the loathsome boring grownup the child me always feared.)
1:56: Uh, no big iWorks updates, I guess? Unless Garage Band is considered part of iWork, because suddenly Phil is talking about that. (Maybe grownup me isn't so boring after all.) Interesting musical collaboration features among multiple iOS devices.
(As a reminder, we don't have fancy liveblogging auto-updating tech here, so you need to refresh the page for updates.)
2:00: iPhoto and iMovie get some sweet updates, mostly involving editing videos and movies on the iPad. Do people do this? I've never seen the appeal (not that I do a ton of photo or video editing generally, I guess.)
2:05: Potentially nifty thing: You can double-tap a photo to bring up other, similar photos. Can import 19 megapixel images in from your fancy camera.
2:12: Sorry, dozed off there for a minute. Guess I'm not a pictures guy. You can make a journal of your images, with notes and maps and stuff! I'm guessing that's going to take up a lot of your 16 GB of memory in short order, especially if you also have some 1080p movies.
2:16: And now a video encapsulating everything you just saw. Does this mean we're done? No "one more thing"?
2:16: Video apparently referred to it as a "third-generation iPad."
2:20: Video over, and... hey! You still can get an iPad 2! $399 for the 16 GB Wi-Fi version.
2:21: Tim Cook is back! One more thing? Enh, one more iPad commercial video, apparently.
And that's it, everybody! Let us know in the comments how you'll be justifying the purchase price of a new iPad to yourself.