Check out this cool video from DigInfo News, showing off the "Cybram 001 Cybernetic Brain Artery Model."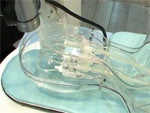 It simulates the features and functions of the brain's cerebral blood vessels, giving doctors the chance to perform brain surgery without harming a real patient.
The model was created through a joint partnership with Fuyo and the Saitama Medical University International Medical Center, DigInfo says. The life-sized plastic body "contains a blood vessel system that runs from the groin to the cerebral artery, as well as a circulation pump and pressure control circuit" that can simulate the blood pressure and blood flow within the body.
Head to this DigInfo News page for more details on the project.
Keith Shaw rounds up the best in geek video in his ITworld.tv blog. Follow Keith on Twitter at @shawkeith. For the latest IT news, analysis and how-tos, follow ITworld on Twitter, Facebook, and Google+.
Now watch: What Google Goggles will REALLY look like April Fools' videos from around the InterWeb If Doctor Who was an 8-bit role-playing game