That's the question of the week, as rumors continue to swirling that the world's most spectacularly botched tech IPO largest social network is on the verge of buying Face.com, makers of the Klik facial recognition app for the iPhone.
Face.com also makes technology that can look at your photo and determine your age and/or mood. (Me, I'm old and cranky – but you don't need an app to figure that out.)
Anything that improves Facebook's ability to auto-recognize you for your tag-crazy friends is bound to be a cause of some concern. Facebook has already been accused of sharing its facial recognition technology with law enforcement types around the world, though there's scant proof this has actually ever happened outside the mind of Eben Moglen.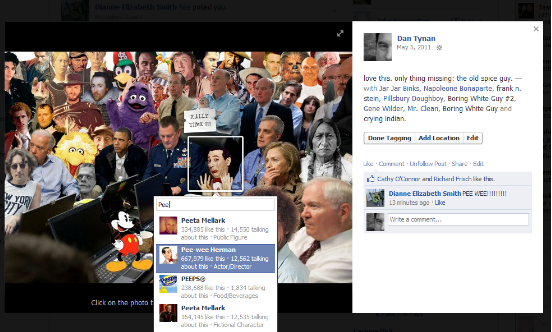 But it could happen. Facebook does use PhotoDNA technology to identify photos of kiddie porn uploaded to the network, though that's not really facial recognition – PhotoDNA compares the digital fingerprints of each photo to a database of known child porn images. But if Facebook did improve its fairly crude facial recognition tech, it's easy to see this becoming a tool of government agents with appropriately menacing paperwork.
Is that you in the background of a photo of an orgy at the Playboy Mansion taken at the same time you claim you were cloistered at a Zen monastery in Nepal?
And who's looking at that photo? Your spouse? The police? The NSA? All of the above? It's a paranoid's parfait.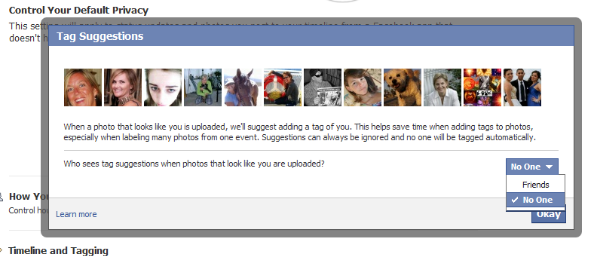 You can turn off photo suggestions in Facebook, so people aren't automatically encouraged to tag you (look under Privacy Settings / Timeline and Tagging). But it's unclear to me whether that does anything besides turn off photo suggestions in Facebook. What I mean by that is, does Facebook still process the facial point data inside each of the 300 million photos uploaded every friggin' day? Does Facebook still know who you are, and is that information squirreled away amongst the yoggabytes of data Facebook is compiling about all of us?
I've never gotten a satisfactory answer to this question.
What can you do, besides quit Facebook or defriend everyone who dares to tag you in photos? You could try posting a QR code from Tag Me Not and include it in photos you upload. Anyone who follows that code to the TagMeNot Web site will learn that you do not wish to be tagged, and that if your face is included in a photo that you'd like it to be blurred, thank you very much.
You can post these QR Codes on your Web site or blog, append them to photos you post online, have them printed on your clothes, tack them to the wall of your home for when the Google Street View vans come rolling by, or tattoo them on your forehead. (TY4NS does not recommend the latter.)
That doesn't mean people will automatically respect your wishes and refrain from tagging you. But at least it makes your wishes known. And that's at least a start.
Got a question about social media? TY4NS blogger Dan Tynan may have the answer (and if not, he'll make something up). Visit his snarky, occasionally NSFW blog eSarcasm or follow him on Twitter: @tynanwrites. For the latest IT news, analysis and how-to's, follow ITworld on Twitter and Facebook.