The Gmail experience on an Android device is one of Android's greatest selling points—probably most Android fans' Top 5. But that's not to say it can't be improved with a few quick fixes and app downloads. If you'd like a smarter address book, quick "canned" responses, better attachment handling, or an entirely new email experience, you'll find it's not that hard to get a better Gmail under your thumbs.
What follows are the Gmail deficiencies and quirks we can fix and tweak, usually with a third-party app that plays nicely with the built-in Gmail app.
Use the same canned responses as in full-browser Gmail
Load Gmail in a browser, and you can utilized customized "Canned Responses" to quickly fling generic messages back to senders who deserve at least some recognition: "I'm traveling right now, but I'll be sure to look into that Monday," "Thank you for your interest, but I don't take business pitches on my personal email," and so on. Load Gmail on your phone, though, and it's either everybody gets a vacation responses, or you're writing (or pasting) each responses individually.
Enter Gmail Canned Responses Beta for Android. After you authorize the app to access your Gmail account, it serves as a simple list of all your responses. Tap one, and it's copied to your clipboard, ready to be pasted into any Gmail text box. You can enable notifications to keep that response always ready for copying in your pull-down shade, if you plan to blitz through more than one message with a common responses.
Need to enable Canned Responses in Gmail itself? Then use this link to the Canned Responses "Lab" to enable them.
Work around Gmail's attachment download limitations
If a message has a PDF attached, Gmail responds with the smartphone equivalent of "Absolutely, no problem, right this way, Sir or Madam." If someone tries to send you an AAC music file, or maybe a .XLS spreadsheet, and you don't have the right app installed to handle that file right that moment, Gmail's response is more akin to the "Biblical Proportions" moment in Ghostbusters.
Yet again, though, some smart Android developer has a work-around. Gmail Attachment Download is a kind of beneficent imposter, installing itself as an app that can supposedly handle tons and tons of file types. In reality, that's just to let Gmail know that it can pass off files it doesn't recognize (but you do) to this app, which will then ask you to save it somewhere on your accessible storage space or pass it off to another app (like, say, Dropbox, or onto your Google Drive space). It's a hack, but it's effective.
The other way around: send any file through Gmail
As its skimpy attachment download abilities, Gmail normally doesn't let you attached anything except a picture or video to outgoing messages. That's why Anuj Tenani created Attachments, or "Gmail Attach". Like Gmail Attachment Download, the app "pretends" to be a photo-choosing app, but once you pick Gmail Attach from the attachment dialogue, you'll have access to all the files on your Android device for sending. You can even rename the file you're sending before attaching, which can be helpful, given the way some files are named by Android apps and processes.
Grab a new adddress book
Sure, your Android has its own address book built in, and you've filled it out over time with your Google contacts and other collections. That doesn't mean you can't load those names and details into another app. Searching the Google Play Store for address book apps, however, yields lots of results of varying quality. Thankfully, there is a solid recommendation for Smartr Contacts from Lifehacker, and a few solid alteratives (my former full-time-ish writing gig). What Smartr Contacts does is take your existing contacts and give them lots of contacts. It figures out how you know peoplee across different networks: Facebook, Twitter, LinkedIn, and more. Smartr lists all the conversations you've had across those networks recently. And Smartr edits contacts directly, so you don't need to shuttle back to your phone's default app to fix those quirks that pop up in any oft-synced list.
Get a full-fledged IMAP experience on your phone
Gmail is a web-based service, but on the backend, you can use it like any other standard (IMAP) mail provider. With K-9 Mail, you have full access to all the folders in your Gmail account, and you can sort, filter, download, and rearrange those folders however you'd like. You can flag messages, set up PGP encryption, export messages to your phone storage, and the list of features and options goes on and on. The one drawback is that it's not the most forward-facing of app designs, but it more than makes up for the lack of polish with a solid core.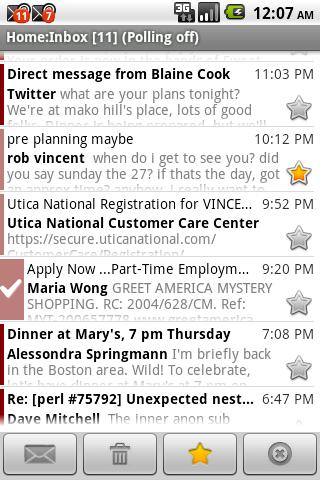 It's probably the biggest change you can make to your Gmail experience on your phone, but it's not limited to Gmail. The open-source K-9 app works with any IMAP, POP3, or Exchange 2003 /2007 email provider, like, say, the address handed out at your workplace.