Right after the news about Disney buying Lucasfilm, we saw a few parody videos hit the Web, but they weren't very good. Most of them were just quick-hit type parodies where people tried to merge Star Wars footage with Disney characters, but with predicted results.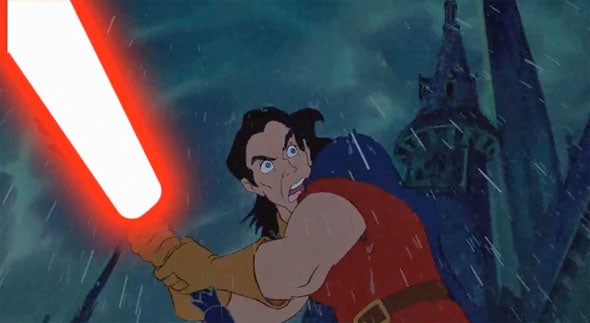 But now it's Week 2, and we're starting to see some better parodies emerging. First up, this video by Eclectic Method, featuring a remixed version of the Imperial March as the soundtrack, and a few Disney characters sporting lightsabers.
The second one is from the staff of Cracked.com, featuring a writer's room meeting where people are trying to come up with ideas for the new Star Wars movies. As part of the Disney deal, the companies announced Episode VII in 2015, with movies every two years after that. In this funny video, we see what might transpire when Hollywood tries to think of a good idea:
A Sneak Peek at Disney's Upcoming 'Star Wars' Movies -- powered by Cracked.com
I'm sure we'll see some more videos in the upcoming weeks - after all, making a good parody video does take some time.
Keith Shaw rounds up the best in geek video in his ITworld.tv blog. Follow Keith on Twitter at @shawkeith. For the latest IT news, analysis and how-tos, follow ITworld on Twitter, Facebook, and Google+.
Watch some more cool videos: Science Monday #1: Why it's dark at night BBC gives Doctor Who fans an Amy/Rory postscript The best remote-control car chase ever Science Monday: Origins of Quantum Mechanics in under 5 minutes Motion-copy robot can mimic painting brush strokes