Page 2 of 2
Internet Explorer
IE9 supported Do Not Track, but with IE10 Microsoft has taken it a step further and made it a default setting: During the express setup of Windows 8 (which includes IE10), the "Always send Do Not Track header" is enabled by default. This caused quite a stir with the Tracking Protection Working Group of the W3C. However, Microsoft stuck to the plan and is shipping Windows 8 RTM with the header enabled.
[ Ad industry calls IE10's 'Do Not Track' setting 'unacceptable' ]
Firefox
Mozilla implemented DNT early with release 4 and is still allowing the user to opt-in using the "Tell web sites I do not want to be tracked" setting.
[ 8 essential privacy extensions for Firefox ]
Chrome
Google just recently added DNT to build 23 (Chromium). The respective setting can be found under the "Privacy" section of the browsers setting. Google Chrome, however, has yet to add Do Not Track to its developer build. I'm not exactly surprised that Google a big hesitant, as online ad revenue is big business for the search giant.
[ The smart paranoid's guide to using Google ]
Safari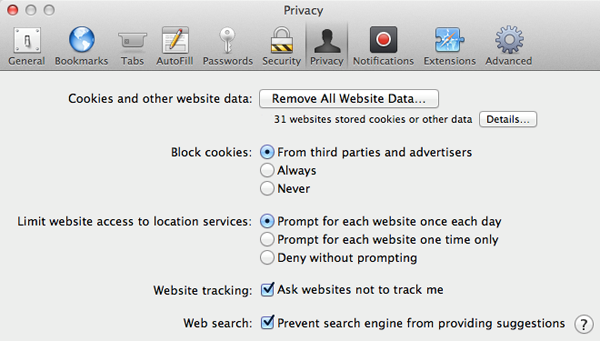 Apple added DNT with Safari 5. You'll find this both on Windows and on the Mac in the settings menu under the "Privacy" tab. Just check the "Ask websites not to track me" box and you're done.
The bottom line
Follow the DNT discussion, enable it if you like, but if you really don't like being tracked, use tools such as Ad Blocker, DoNotTrackPlus, Ghostery, and NoScript and clean out your local cache regularly.
Now read: The first truly honest privacy policy