Last week I found myself on Sex.com, where I saw something on that NSFW site that truly shocked me.
No, it's not what you think. I was only there to research a blog post that will appear later this week. Honest. And what shocked me wasn't what you're thinking, either.
What I saw was the most blatant rip-off of one site by another I can think of. Does the following heavily redacted home page remind you of anything?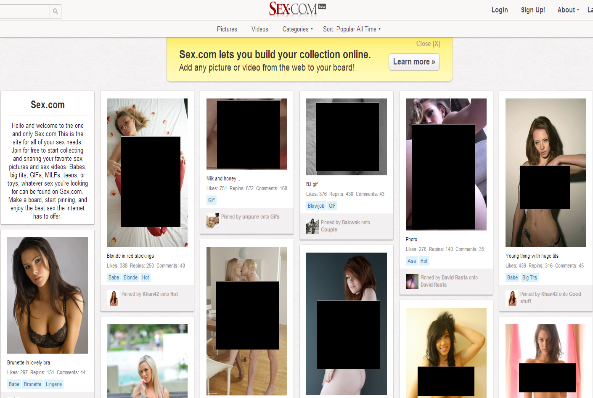 Yes, it's Pinterest, only with a lot less clothing and accessories.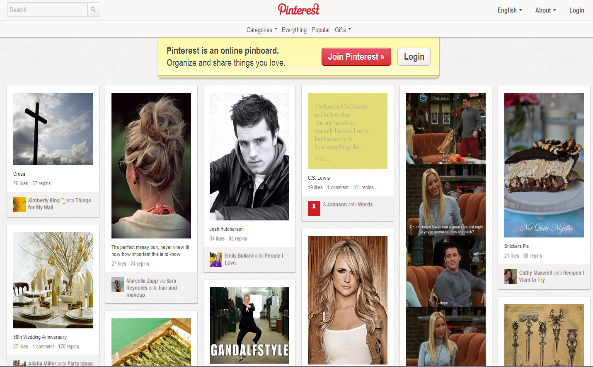 The site was such a dead ringer that I contacted Pinterest and asked if there were any connection between the two sites. Did Sex.com license Pinterest's code? Was there some kind of revenue sharing deal? Were they (ahem) in bed together?
The word from Pinterest: A terse but definitive "No connection whatsoever."
Now the porn industry is famous for its mimicry. There has not been a commercially successful Hollywood movie made over the last 20 years that has not been honored by an XXX parody. (Or so I've heard.)
The Web is no exception. Facebook has its F***book. Google has Booble. YouTube has PornTube and any number of other kissin' cousins. But this copy struck me as particularly brazen. And after a little Googling I discovered that a) I'm not the only one to have noticed this, and b) sex.com is just one of possibly dozens of adult sites that have "Pinterested" themselves, including the inevitably named Pornterist.
Can't Pinterest, which is now the third most popular social network behind Facebook and Twitter, do anything about this blatant cloning? I asked Bennet Kelley, who runs the Internet Law Center in Los Angeles. He connected me with Joel Voelzke, an intellectual property attorney in Malibu, who said Pinterest could fire a handful of legal arrows in its quiver.
For example, it might be able to sue Sex.com and various other imitators for infringement of its trademarks and/or "trade dress" (though in this case, trade undress might be more accurate, Kelley snarked).
A trademark is a word, phrase, or logo used as a brand name or identifier, explains Voelzke. A trade dress is a unique distinctive packaging around goods or services, such as the distinctive shape of a Coke bottle.
Infringement boils down to whether a significant number of the people who patronize Pinterest would be confused enough by the similarities into believing that Sex.com is provided by or affiliated with Pinterest, says Voelzke. I was certainly confused. Then again I confuse easy, as my wife will unhappily attest. The problem? Pinterest isn't Coke. It isn't even New Coke. In fact, it owes a fair amount of its look and feel to Tumblr, in my humble opinion.
Pinterest may also be able to pursue its naughty lookalikes by claiming they are diluting its trademark and diminishing its value. To prevail on those grounds, Pinterest will have to prove that its trade dress is "famous."
"Legally that's a difficult hurdle to clear," Voelzke adds.
In any case we may soon find out. I would not be surprised if Pinterest pursues legal action against Sex.com, and soon. Then the truth about whether one site can simply rip off another's look, feel, or fundamental concepts may finally come out – naked, or otherwise.
Got a question about social media? TY4NS blogger Dan Tynan may have the answer (and if not, he'll make something up). Visit his snarky, occasionally NSFW blog eSarcasm or follow him on Twitter: @tynanwrites. For the latest IT news, analysis and how-to's, follow ITworld on Twitter and Facebook.
Now read this:
Facebook's 'man in the middle' attack on our data
Making Facebook private won't protect you
How to keep hackers out of your Google, Facebook, and Twitter accounts