Many people would love to suddenly get 5,000 new fans for their Facebook page overnight. Some might even shell out cash to buy fake ones. But not Christine O'Hare.  The co-owner of casual gaming site Ultimate Cool Games says these fans are a pain in the butt. She has no idea how they found her, and she wishes they'd just go away.
I got in touch with Chris while researching a feature on the fake fan biz (see "Almost Famous: Inside social media's fake fan industry"). In examining my own fans, I noticed that some of my newly acquired fakes were also fans of Ultimate Cool Games on Facebook. So I visited that page and looked around.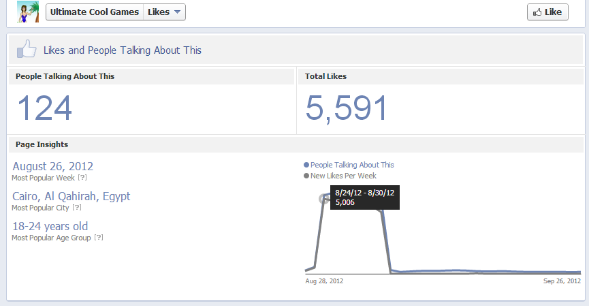 The Ultimate Cool Games Likes chart showed the exact pattern I'd been noticing for months on dozens of other Facebook pages; a graph that crawls along the bottom axis for weeks or months and then suddenly shoots up like a rocket over the course of a day or two.
O'Hare says she did nothing to attract those fans. She didn't buy them outright, and she didn't hire a social marketing firm to promote her page. They just showed up one day and started commenting on her posts. In Arabic. And they weren't commenting about the post, they were using her posts to have conversations with each other.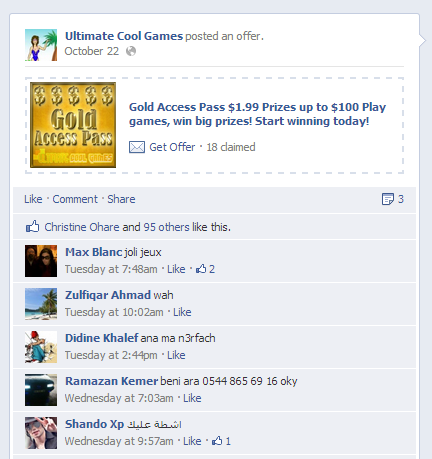 Though O'Hare uses Facebook ads to promote her posts, she only advertises for fans in North America. She certainly isn't looking to corner the Arabic market.
"I don't do any advertising in Dubai or Eqypt," she says. "I don't have anyone from there playing games on my site. So why all of a sudden do I have thousands of fans there?"
This is not the first time Facebook pages have displayed funky fan behavior. In my research I've contacted a half dozen small businesses who had similar hockey stick-shaped Like graphs on their pages and could not explain them. Back in July, BBC reporter Rory Cellan-Jones performed an experiment to test the effectiveness of Facebook's ads. He set up a Facebook page for a fake product – The Virtual Bagel – and bought some ads to promote it. Within four days the page had garnered more than 3,000 Likes, almost all of them from the middle east, and at least some of them from obvious fakes.
After initially denying anything was wrong with the Likes Cellan-Jones' page had received, Facebook began a public effort to purge fake Likes. A few weeks ago Virtual Bagel received another spike of 2,000 Likes, completely out of the blue.
As I see it, there are two possibilities.
One is that the bot networks used to artificially pump up a Facebook page's fan count for a fee are also pumping up the counts on random pages for free – either to test the bots, or to make it harder for Facebook's algorithms to detect them by looking more like "real" people.
The other possibility: A rogue Facebook employee is employing bots to pump up the Likes to make Facebook's advertising model look more effective than it is. That's an ugly accusation I'm not fully prepared to make, but I'm struggling to come up with alternate explanations.
"I don't understand this at all," O'Hare says. "One day I go in and I have 3,000 Likes. The next day it's 5,000. The day after that it's 3,600. What the freak is going on? People come in and write comments in languages I don't understand and link to something with a picture. I delete them because I think they're spam. But I have no idea how to tell who's real and who isn't."
O'Hare says she's tried to enlist Facebook's help in solving the mystery, but they stopped responding to her emails.
"I don't want to come off as a victim," she says. "But as a small business owner, I want to make sure I'm spending my money in the right place. I don't want to be used as a mule for someone else's business."
Got a question about social media? TY4NS blogger Dan Tynan may have the answer (and if not, he'll make something up). Visit his snarky, occasionally NSFW blog eSarcasm or follow him on Twitter: @tynanwrites. For the latest IT news, analysis and how-to's, follow ITworld on Twitter and Facebook.
Now read this:
Facebook botnets have gone wild
When blonde zombies attack, Facebook responds (sort of)