A big barrier to widespread adoption of GitHub by Windows users has been the lack of friendly tooling to interact with the service. Most everything needed to be done through the command line and the initial setup of the security key exchange between your desktop and GitHub was enough to deter a lot of people. All of that has changed with GitHub Windows 2.0.
GitHub Windows 2.0 is a stunning application. It's design and function is so streamlined you'll marvel at it after installation. Every aspect of it seems to have been created with productivity in mind. It's minimal interface provides all of the functionality you'll need via a single screen, complemented by flyouts.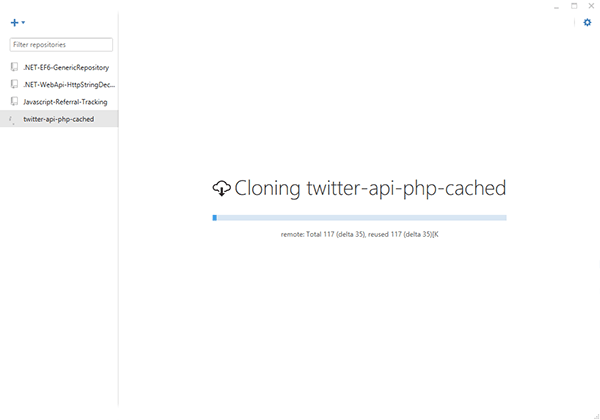 When you first fire up the app, it will (surprise) ask you to log into GitHub. Once you do, it automatically negotiates the SSH Key creation and exchange for you and provides access to your repositories. If you have any local repositories already, the app will help you find them, otherwise you can browse your online repositories and clone them to your local workspace in a click.
Once you have a repo cloned to your local machine, you can view the history of that project and navigate between branches with ease.
As you work on your project, GitHub for Windows monitors your files system and reports your uncommitted changes immediately. You get a detailed look at every file that has changed and a diff of each file showing what has changed and how.
When you're ready, you can enter your commit message and commit your changes to the repo.
This may all seem rather unremarkable but Windows users have been waiting for this application. The fact that it is done so well is a big and welcome surprise. It might be the best modern Windows application I've seen since the release of Windows 8. If you've been looking to get started with GitHub and have held off because of the lack of a solid Windows GUI, today is the day that excuse disappears. Head over to the Github Windows site and download the software to get started.
Source: Phil Haack