At the recent Society of Information Displays (SID), Nokia showed off displays that could be bent up to two times, and still continue to work.
Well, Korea's LG Display just one upped them in a big way. It has just shown off an 18-inch flexible OLED panel that you can roll up like a newspaper to a radius of just 3 cm and still work. The company also showed off an 18-inch transparent OLED panel, which means those see-thru monitors we keep seeing in sci fi movies may come to pass.
The rollable display sports a 1200x810 resolution with nearly 1 million megapixels. LG also says this means it can produce rollable TVs in excess of 50 inches sometime in the future.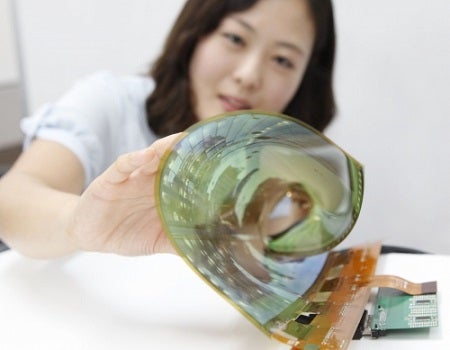 LG Display used high molecular substance-based polyimide film as the backplane of the flexible panel instead of conventional plastic to achieve the maximum curvature radius. The polyimide film also helped reduce the thickness of the panel, which helped make it more flexible.
In-Byung Kang, senior vice president and head of the R&D Center at LG Display, told the Korea IT Times that "by 2017, we will successfully develop an Ultra HD flexible and transparent OLED panel of more than 60 inches, which will have transmittance of more than 40 percent and a curvature radius of 100R, thereby leading the future display market."
Curved displays are the latest marketing gimmick, but that's more for making it easy to view the screen, particularly multiple people around a big screen TV. In this instance, a rollable monitor could be rolled up and neatly put out of the way, which would be great for tight spaces, or for portability. So it's a very different animal.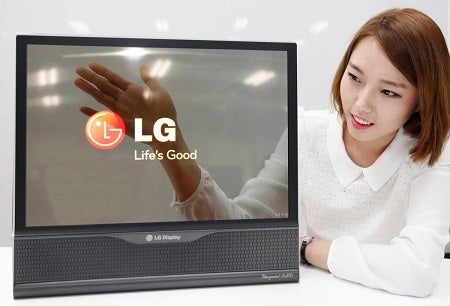 The transparent panel, on the other hand, comes with 30% light transmittance, which means the video will be sharper and clearer even as you can see through the display. Previous models only had a transmittance of about 10% and looked pretty fuzzy. I saw them at SID in 2011 and they weren't that great. That LG believes it can get to a transmittance of 40% by 2017 illustrates just how hard this is to do.
Most of us put our monitors against a wall, so seeing through them is not necessary, but it has use in other areas. As I said, I saw an early display of a transparent screen at SID 2011. One was in a window, so you could look outside and at the screen at the same time. It even had a virtual "draw string," which blackened the window like a blind. Another was used in the door of a refrigerator, where information was displayed on the screen and you could see inside to the contents.
Looks like the days of immovable, flat screens are winding down.