Microsoft's new social network, Socl, moved out of beta the other day. I spent some time playing around with it yesterday but I'm having a hard time figuring out what this is.
I think it's closest to Pinterest in that it works best if you're going to be sharing content from somewhere else on the web. There's a bookmarklet to help with that. Once you install it you can snag images and videos to display in a Socl post. The big difference is that you can gather many images and videos under one post on Socl, and people seem to be more apt to comment than they are on Pinterest.
You can create a post from scratch at Socl but you still can't just upload an image like you can in, say, Google+. So if you want to share a cute picture of your dog you'll have to upload it elsewhere and then link to it on Socl, which seems hopelessly cumbersome to me. Microsoft would be delighted if you use Bing to search for images or videos that may be relevant to the topic you're posting on.
You can follow either People or Interests and you should probably do so, since the unfiltered feed can be pretty random. Within moments of hitting the site I had a screen full of buxom women in tiny bikinis and shortly after, very graphic images of the victims of shark attacks. Happily I wasn't at the office when I was exploring this site.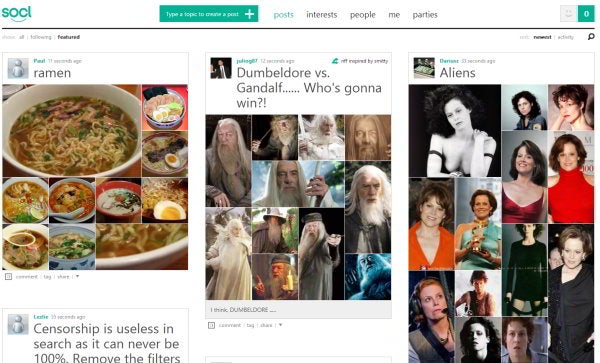 A random sampling of Socl
Source: Socl
Once you find some people to follow (and the search feature is tucked over at the right edge of the screen just below that solid black bar, in case like me you miss it at first) you can filter everything else out by the tiny "Show" menu on the left side of the screen under that same black bar (chose Following, obviously).
Getting a general feed of all the Interests you're following has thus far eluded me. Going to the Interests tab and choosing to Show Following lists the Interests you're following but you still have to click each one to see posts about that interest. I must be missing something here.
There is also a tab labeled "Me" that has sub-tabs that show all your posts, your Interests and People (these pages seem redundant with the main Interests and People pages) as well as one called "Conversations" where you can see all the posts you've either made or commented on, and that's useful. There's also a feature called "Parties" that is supposed to help you gather some friends together so you can watch videos together. I haven't tried that yet.
It all feels sort of half-baked and jumbled to me, or at least it did for the first hour. I'm slowly acclimating to what's going on, but I'm still not sure it'll become a regular destination for me. I just am not sure what I'm supposed to be doing on Socl. Maybe the idea is just to provide a cure to boredom in the form of collections of pictures and videos of random topics. If that's what Microsoft was going for, they've nailed it.
You can find out more about Socl at their semi-hidden About page.
Read more of Peter Smith's TechnoFile blog and follow the latest IT news at ITworld. Follow Peter on Twitter at @pasmith. For the latest IT news, analysis and how-tos, follow ITworld on Twitter and Facebook.