Our long, mostly middle-and-upper-class iPhone-owning directional nightmare is over. Apple has approved, and Google has released, an official Google Maps app for iPhones. It's a good app, it's free, it has turn-by-turn spoken directions, and it has all the things people missed in Apple's Maps app—like knowledge of actual places, and directions that usually make sense.
If you have an iPhone, you need to download Google Maps, if only as a backup for when Apple Maps gets things wrong. If you have an iPad, Maps looks stretched and wonky, but it works. Maps is fairly intuitive to use: search for something you want to see, or tap the direction arrow to get directions. Simple.
But there are a few hidden things in the app itself, and some weird things you might not have thought about. Below are five of them.
That tiny tab in the lower-right corner
It is very, very tiny, this tab. You might not notice it at all, in fact, until you accidentally open up the area to the right with your fingers (more on that in a bit). Grab that tiny, tiny tab with a finger in the lower-right corner, drag it to the left, and you'll find some occasionally handy tools: a toggle for satellite or maps view, buttons to overlay traffic or public transit options on the map, and a link to open the Google Earth app in the same location you're looking at (providing you have it installed).
The somewhat hidden gesture controls
Tap the "person" icon to the right of the search bar. If you're logged in, you'll find options to set your Home and Work locations, so you can get directions by simply typing in the first few letters of Home or Work. But tap that gear in the upper-right, and then check the "Tutorials & Help" option toward the bottom. There's an option for "Gestures." Tap that, too.
The first thing you see is that you don't even need that tiny, tiny tab every time—you can use a two-finger "pull" gesture to access those occasional toggle buttons. And, look at that: when you have directions pulled up, you can swipe left or right to check out alternate routes. Same thing with search results: you see the first and best result at the bottom, and you can "pull up" to see more, but you can also swipe left and right to see alternate results.
Google's getting pretty good at hiding away the complexity of some of their data-rich apps in iOS apps, as evidenced by the Gmail refresh earlier this month. Keep it coming.
Apple's Maps gambit forced Google to offer a better app (with driving directions)
What if Apple had not gone ahead with its Quixotic quest to cut every last tie to Google by pushing out a not-quite-ready Maps app? Would Google have ever felt the pressing need to provide a newer, better Maps app, one with built-in turn-by-turn directions and a restyled interface? Would the new app have looked like Apple's well-styled Maps app, but with Google data? What other rhetorical questions need to be asked, until you appreciate the odd circumstances that led to a better mobile map experience for everyone's iPhone?
Public transit directions are a big deal
There are, perhaps, some iPhone owners who have not had any serious problem so far with Apple's Maps app. One of my friends claims to be just such a person. And there are some who might have already figured out how to get by with MapQuest, Bing Maps, or any other number of Apple Maps alternatives. So what's the big tech-pundit commotion over "finally" getting an official Maps app?
For one thing, public transit directions are in Google's app, and they're pretty great. They know what bus or train or trolley is coming, and when, and where you need to be to catch it. For many people, that's not a life-saving feature. But were you aware that many writers about high-tech things live in New York and San Francisco? Did you further know that driving in those cities can be compared to a sword fight with an eight-armed cyborg octopus that was programmed by an Olympic-class fencing villain?
And public transit directions are now the big differentiation between Apple's Maps, which will presumably improve in data and photo quality, and Google's Maps, which seem more metropolitan and adaptable.
No biking directions yet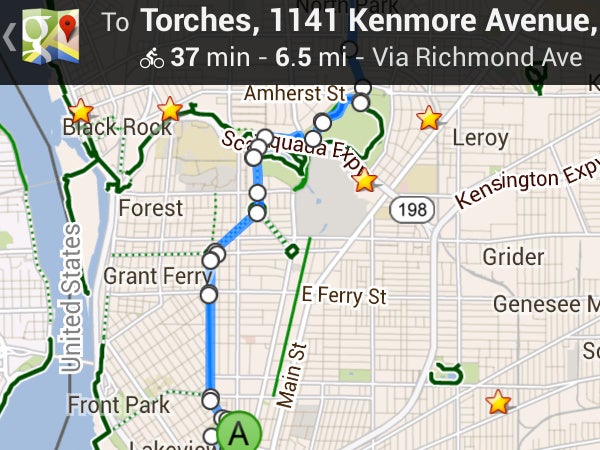 Google's own Maps app on Android offers directions for cyclists. They are labeled as "beta" or a "work in progress," but they are very helpful for finding smoother rides, public paths, and other helpful byways for cyclists. There are no such directions for bicycles in the iOS Google Maps app. I could only venture to guess that cycling directions required rethinking the design, or that Google was looking for more complete cycling coverage, before offering them on iOS.
It would be odd, otherwise, to think of bicycle directions as the valued differentiator for Google's own Android platform. Which is what turn-by-turn directions were, until last night.