The HiSense Pulse
Source: HiSense
Last week the HiSense Pulse Google TV device went on sale for about $100. I've been curious about Google TV pretty much since the platform launched, and while I've been tempted by the Visio Co-Star (also around $100) I knew it wouldn't be fully compatible with the upcoming Google TV voice search feature we talked about last month. The Pulse is, or at least it should be. (The Co-Star remote doesn't have a microphone but the Pulse remote does.)
So it being Christmas I decided to play Santa for myself and ordered one, and I thought I'd share my early experiences in case any of my readers are also curious. Please don't consider this a definitive review: I'm still learning about the system and I have nothing to compare it to, with this being my first Google TV device.
The Pulse is a small-ish device (4.4" square and 1.3" high) with a USB port on one side and all other inputs in the back. In addition to a power jack, it has an Ethernet port (but also supports WiFi connections), HDMI in and out, and an IR blaster jack. You run an HDMI cable in from your cable box or other TV source, and out from the Pulse to your TV or A/V receiver.
The one fly in the setup ointment was the IR blaster. I hoped when I ditched my first generation TIVO that I'd never have to mess with these things again. The Pulse comes with a single-head blaster which is going to make it a challenge to cover all devices in a normal home theater setup. I'm still messing around trying to find the perfect placement for it but I've about accepted the fact that I'm going to have to spend more money on some kind of IR extender or something. Right now I have the blaster sitting on a jury-rigged stand a foot or so in from of my A/V receiver and cable box (which are stacked on top of each other) and I've given up on controlling the TV for now (its IR receptor is on the far side of the TV, maybe 4 or 5 feet away). This set-up works but it looks silly and is prone to being jostled by people or dogs walking by.
Once the hardware is set-up (and aside from the IR issues, set-up takes about 5 minutes, tops) it's time to set up the software. This can take a bit of time but is pretty simple. For each device you want to control, you enter the name of the manufacturer, then the model name and any other applicable details. If you don't have some of the info set-up will let you use trial and error to find the right set of codes. For your TV service you have to go through all your channels and tell the Pulse which ones you get; this is the most time-consuming step but at least you can tell it that you don't receive all those home shopping channels that you never watch anyway.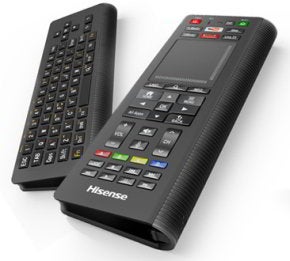 The Pulse remote, front and back
Source: HiSense
The Pulse comes with a dual-sided remote control. One face looks like a typical remote, with the addition of a trackpad in the middle of it. The other face holds a QWERTY keyboard. At first glance the remote is a bit intimidating but it actually works really nicely. The keyboard is large enough for rapid thumb-typing even for those of us who don't spend all day texting. The other side works just as you'd expect a remote to work.
So with everything set-up it's time to figure out just what Google TV is. When you turn on the system you'll see a navigation row across the bottom of the screen, with live TV playing in the background. Your options are Live TV, All Apps, PrimeTime, Netflix, Chrome, YouTube and the Google Play store. There are also dedicated buttons on the remote for some of these including, most imprtantly, Live TV. When you just want the interface out of the way you can punch that button.
PrimeTime is, for me, what makes GoogleTV fun. When you fire up the PrimeTime app (and the Pulse's interface is quite snappy) you get a view into what's on TV. You can look at what's playing now and see shows broken down by category (e.g. comedy, drama, sports) and you can apply filters to only see HD content, or only see free content. You can also browse upcoming TV and movies and find out when the show and episode you want to see will next be on (including options to buy or rent content from services like Google Play). For me at least, PrimeTime has brought the fun back to channel surfing. I've honestly found channels I didn't even know I had, which led to checking out old favorites like episodes of The Twilight Zone. PrimeTime asks you to rate the TV and movies you watch so that it can learn what you like and make recommendations.
The one feature I'd like to see added is a listing of what's on next. Seeing what's on right now is great at 6:05 pm, but at 6:55 pm when everything is about to end, it's less useful. A section devoted to "starting in the next half hour" would be much appreciated.
[Update: PrimeTime does have exactly this feature. It only shows up on the "What's on now" section but there's a small dropdown window that lets you look at what's on in half and hour or in an hour. Apologies for missing this feature during my initial testing.]
Going beyond the TV features, the Pulse is a nice streaming device for services like Netflix and YouTube. I'd love to see dedicated apps for more services. Amazon Video on Demand has rolled out on LG Google TVs and should hit other platforms soon, but the Pulse has no Hulu or HBO Go apps, for example. However it does have the Chrome browser and a "Spotlight" app that links you to Chrome-optimized pages for many of these services. I've had pretty sporadic success managing to get logged into them, however.
As I said, I'm still learning about both the service and the hardware but for $100 I'm fairly pleased with what it does so far, and I'm hoping the service will continue to improve. I like that I can bounce between live TV, Netflix and YouTube easily from one remote and one device. I like that I didn't have to give up another HDMI port to add this to the system. I like the PrimeTime app a lot.
I don't much like the IR blasters though people with experience with both the Visio and the HiSense say that the IR blasters are faster and more reliable than the Visio's controller based emitter, once you get the IR blasters set up properly. And I'd like to see more dedicated apps. I can't say Google TV is a must-have right now but I'm finding it to be an interesting project to fool around with.
If you want to learn more, here's an hour-long 'unboxing' video with lots of questions and answers. As an owner I found parts of it to be pretty helpful and it also answers a lot of pre-sales questions you may have:
Read more of Peter Smith's TechnoFile blog and follow the latest IT news at ITworld. Follow Peter on Twitter at @pasmith. For the latest IT news, analysis and how-tos, follow ITworld on Twitter and Facebook.