Page 2 of 3
Two or three years ago LinkedIn used to be much tougher about who it let in your network. You could only ask to connect with people who worked at the same company, or if you got introduced via a mutual acquaintance, or if you knew their email address. To keep from getting completely waxed by the explosive growth of Facebook and Twitter, however, LinkedIn clearly decided to make things easier. Now all you need to know is how to click your mouse.
Of course, you have some control over the endorsement process. You're not forced to endorse anyone; just click the little x in the upper right corner of each box.  (You will have to do this every time you use LinkedIn, however; Inouye confirms that there's no way to tell the network to stop nagging you for endorsements.) You can unsubscribe from emails notifying you about endorsements from others. And you can control what skills are displayed on your profile.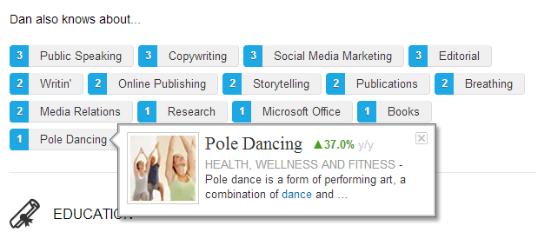 If a colleague endorses your Pole Dancing skills, for example, you have the option of showing or hiding that on your profile. (Though why you'd want to hide that I have no idea.)
You can also see the name and photos of every person who's endorsed you along the way. That of course raises more questions. Like why did my old colleague Owen endorse me for Publishing but not Social Media? And why did Aaron E., a person I've never met, endorse me for a job I haven't had since he was a small child, and why does he appear to be wearing a banana on his head?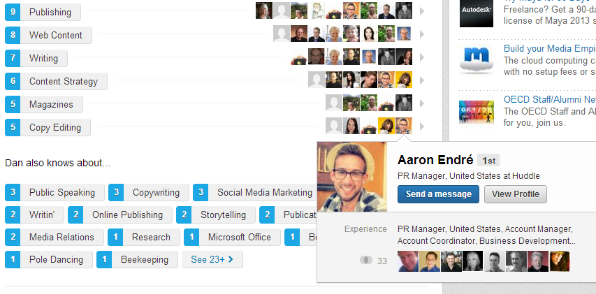 I look at LinkedIn endorsements the same way I look at Klout – a temporary ego boost that ultimately means very little. When I asked my non-banana-wearing colleagues what they thought of LinkedIn endorsements, most of them replied, "Not much." One, however, had an interesting take.