Note: This tip is excerpted from Master Your Mac: Simple Ways to Tweak, Customize, and Secure OS X by Matt Cone. Published by No Starch Press, November 2012.
If you'd rather tell your computer what to write in a word processing document than type it yourself, enable the dictation feature. Just open a new text file, push a button to activate dictation, and start talking. Once you're finished, your Mac will send the audio recording to Apple's servers to transcribe what you said. It all happens in the blink of an eye.
Here's how to enable and activate dictation:
1. From the Apple menu, select System Preferences.
2. Click Dictation & Speech. The window shown in Figure 10-4 appears.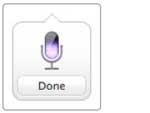 3. Select On to enable Dictation.
4. From the Shortcut menu, set a key to activate dictation. You can press the function (fn) key twice by default.
5. Open a text document and press the shortcut key twice. The dictation icon appears, as shown in Figure 10-5.
6. Start talking. When you're finished, click Done. Apple's servers will transcribe what you said and then paste the text in the document.
Here's a trick that will prevent a headache or two: Punctuation needs to be enunciated. For example, if you wanted Dictation to type the following:
Here I am, at home, alone.
you would say, "Here I am comma at home comma alone period." It sounds weird, and it takes some getting used to, but it's a trick you'll need to use if you don't want to have to manually add all of the punctuation later. That brings up another good point: Make sure to proofread the text after it's been transcribed -- this technology isn't perfect yet, so you will find typos.
WIN this book
ITworld is giving away 5 copies of 'Master Your Mac: Simple Ways to Tweak, Customize, and Secure OS X' to some lucky readers. Enter for a chance to win!
If you want to go beyond the basics, Master Your Mac will take you there. With tips on everything from organizing your workspace to strengthening your computer's security, author Matt Cone will show you how to tweak, customize, and control your Mac.
Enter now!
* All fields are required
By clicking submit you agree to the terms and conditions outlined in ITworld's privacy policy.
Read the official giveaway rules.