Every day I learn something new about how smartphones can be used to track us in real time. Today's lesson: How retailers are using Bluetooth to watch what we do.
A week or so back I wrote about how retailers can track you in and out of their stores using your smartphone's WiFi connection – as well as how some companies limit what the retailers can do with that information.
[Internet Explorer flaw gives ad trackers a sneaky edge -- for now and Congress considers ban on smartphone tracking apps]
The story doesn't end there. WiFi is hardly the only wireless technology being employed to figure out how consumers act in the real world. I recently had a fascinating conversation with Patrick Blattner, chief product officer for a company called WirelessWerx. They make Bluetooth trackers deployed in hundreds of electronics retailers, grocery stores, and fast food joints.
As with WiFi tracking, WirelessWerx' sensors pick up radio signals from your phone's Bluetooth antenna and assign each one a unique number. Blattner was quick to point out that while its technology can pick up and identify any phone in range that has Bluetooth enabled, its software immediately encrypts and anonymizes the data so the retailer can't backwards engineer it to identify individual customers.
Bluetooth tracking has two big advantages over WiFi tracking. One is they can operate within ranges as small as a few feet – making it possible to get truly granular in a way WiFi can't. The sensors can track you aisle by aisle, end cap by end cap. They can know how long you waited at the checkout line and whether you hopped from lane to lane, hoping to get out of the store a little faster.
The other advantage is that Bluetooth is more widespread; feature phones that may not have WiFi often have Bluetooth. And the nodes are cheaper and easier for store employees to deploy than competing technologies like WiFi or cameras, says Blattner.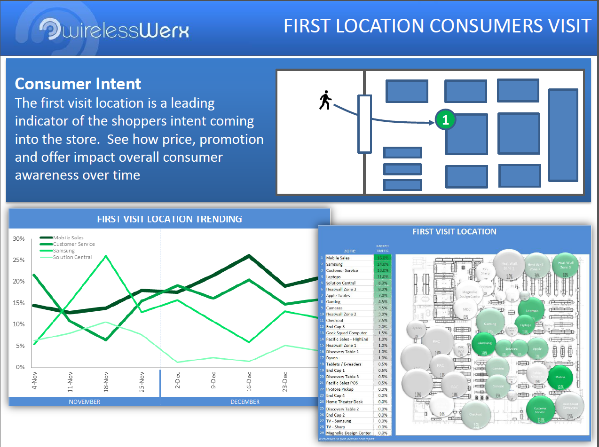 Working with a big box retail chain, for example, WirelessWerx figured out that changing window displays had no effect on whether people came in the store, says Blattner, and that nearly all shoppers went to the same part of every store and then left without visiting any other aisles. That prompted the chain to spend less money on displays and reconfigure their store layouts.
What's in this for you and me? Well, maybe shorter lines at the register or more help in the aisles. By measuring foot traffic at different times of the day, a retailer can use this information to determine when their stores are busiest and if they need to bump up the staffing or open up more registers.
This year, says Blattner, major US airports will begin deploying Bluetooth tracking. The goal is to figure out how to optimize and speed up those annoying TSA security lines. But the motive isn't to get you to your gate faster, says Blattner; it's to get you inside the airport mall faster so you spend more time and money there.
There are a few other key differences with WiFi tracking. Unlike Euclid Analytics, which requires stores to notify consumers their WiFi connections are being recorded, no notice is ever given to customers their Bluetooth is being tracked. Nor for that matter, can consumers go to WirelessWerx or the retailer's Web sites to opt out of tracking. Your only option: Turn Bluetooth off.
"We looked into this when we were doing a pilot program with a top-tier retailer about a year and a half ago," Blattner says. "The response from their legal department was that having your Bluetooth enabled implies your consent to search and receive this information."