Lately I have been on a Foursquare tear, mostly to keep up with my lovely wife, who is addicted. We were traveling last week and had just touched down at our destination, so naturally she had to whip out her phone and check into the airport before I could.
This time, though, she was staring at her phone and frowning.
"I don't know what this PR person is thinking," she said, "pitching me a product on Foursquare two minutes after I accepted her friend request. Where's the unfriend button?"
About an hour later I got a Foursquare friend request from an attractive young woman calling herself Willie Miller. I usually ignore 4sq invites from total strangers, but not this time. Within two minutes I got the following "tip" about the hotel where we had just checked in. Here's what it looked like:

Honey, I said in my husband voice, what was the name of that product you got pitched?
Locish, she answered. Why?
Her now-former Foursquare friend went by the name Angela Bell and featured a different profile photo, but she was otherwise a near twin of Willie. They were not PR babes trying a sneaky new way to get the attention of two jaded tech journalists. They were spammers.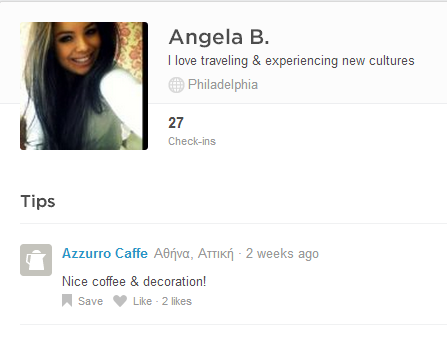 Willie and Angela had a few other things in common besides the identically worded "tip." Both are highly attractive women in their early 20s with sparse profiles. Despite allegedly hailing from Nebraska and Pennsylvania, respectively, both left comments on their check-ins that suggest English is their second language. Both are new to Foursquare, with accounts just a few weeks old, yet each has amassed more than 600 friends and seems to be adding them at the rate of 20 to 30 a day. Both have checked into locations in Athens, Greece, where Locish happens to be based.
Locish is a startup that's trying to sell local recommendations to travelers (its motto: "Travel like you live there"). Travelers use the Locish app to submit requests – like, Where can I find good Cuban food in San Francisco? – along with how much money they are willing to pay for the recommendation and how quickly they need it. You can sign up as a "local angel" for a particular city and compete with other local angels to win their business. If you recommend Cha-Cha-Cha in the Mission, for example, and the traveler accepts it, you get a portion of the money they offered.
At least, that's how I think it works. Locish isn't available in the locations I've tried it in, and it's not clear to me whether the service has even officially launched yet. I signed up to be a local expert for San Francisco, which included forking over a fair amount of information about my interests and tastes, as well as submitting a sample restaurant recommendation for them to evaluate. I'm still waiting to find out if I've made the cut.
Here's some of the things they wanted to know about me: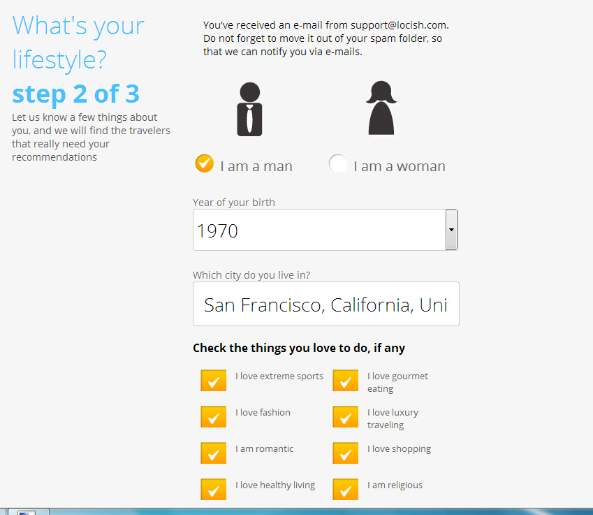 It's an intriguing concept, but clearly Locish won't fly until there's a critical mass of local experts on call in the biggest cities. Pretending to be Foursquare hotties and then spamming people with bogus "tips" to lure them to your app is entirely the wrong way to go about creating that. I also wouldn't recommend sharing personal info with any site that uses spam as a marketing tool.
To be clear: I have no proof that anyone at Locish is related in any way to the Foursquare spambooties. But given the Athens connections, let's just say I'm deeply curious. I've asked Locish to comment via its Twitter account and email; so far they have yet to respond.
Meanwhile I've learned a few interesting things about Foursquare. For example, while spamming is a clear violation of Foursquare's policies, I can find no rules prohibiting the use of fake names or multiple accounts. And unlike Facebook and Twitter, there's no easy way to report fake accounts and spambots. You can unfriend someone easily enough, but to report an abusive account you have to visit this link and fill out a form. I couldn't find that page anywhere on Foursquare's help center; I found it by accident via its Twitter support channel.
If Foursquare is going to make it this hard to report abuse, it's like giving spammers an engraved invitation. Location-based spam could quickly become an incredible annoyance, incredibly quickly. Give the scumbags any opening, and they will exploit it. You don't have to be a local expert to know that.
Got a question about social media or privacy? TY4NS blogger Dan Tynan may have the answer (and if not, he'll make something up). Visit his snarky, occasionally NSFW blogeSarcasm or follow him on Twitter: @tynanwrites. For the latest IT news, analysis and how-to's, follow ITworld on Twitter and Facebook.
Now read this:
Web trackers are totally out of control
Further adventures in data mining, or welcome to my Lear Jet Lifestyle
Four reasons why Do Not Track turned into Do Not Trust