With the new Star Trek movie coming out later this week, you might think that weapons related to that show are all about phasers, photon torpedoes or the rare phaser rifle (seen mostly in video games, not the actual show).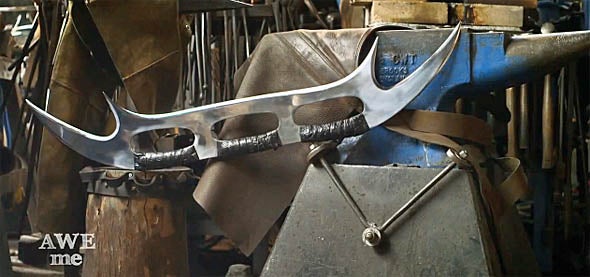 But there was the occasion when we saw melee weapons, especially when handled by the Klingon Worf in "Star Trek: The Next Generation". The Bat'leth is a very cool sword, mainly a two-handed weapon (although you could use it one-handed) that acts like a staff but also can slice like a sword. It's very cool, so it was great to see Tony Swatton and his "Man at Arms" show on YouTube take on the challenge of creating one.
As a side-personal note - my wife owns a Bat'leth letter opener - very good for tackling the opening of bills without paper cuts.
Keith Shaw rounds up the best in geek video in his ITworld.tv blog. Follow Keith on Twitter at @shawkeith. For the latest IT news, analysis and how-tos, follow ITworld on Twitter, Facebook, and Google+.