It's been two years since Google shuttered its testing ground for cool and quirky web services called Google Labs. It was Google's own "playground" that invited anyone to test sometimes pie-in-the-sky ideas, but also some rock-solid ones such as Gmail and Google Calendar.
Two years later the guys in the lab coats maybe gone, but the spirit of Google Labs is alive and well. The most recent examples are two games Roll It and Racer that herald from Google's Chrome Experiments, a website Google says "showcases creative Web experiments." Sound familiar?

Roll It is a digital version of skeeball that marries your smartphone or tablet to your laptop or desktop PC. The game creates a virtual skeeball game on your computer and lets you manipulate the ball's direction and speed using your phone or tablet and its accelerometer. Simply aim (see above right) and swing your arm and watch as your ball on your desktop or laptop goes zoom.
To get started visit the Roll It game on your desktop and follow the instructions. You'll be asked to visit the Roll It site on your mobile browser. Next, punch in a code that Roll It provides that syncs your mobile and desktop browsers.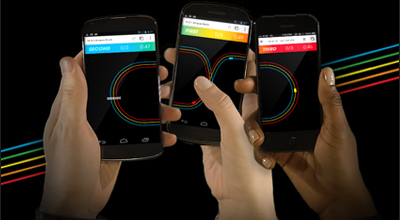 Racer is a slot-car style game that lets up to five phones or tablets stitch together a racetrack that span all the devices' displays. Once you line up your tablets or smartphones it's off to the races. You accelerate by touching the screen, but if you've got a lead foot (or should that be finger) you'll go too fast and careen right off the track.
Both these games feature a web technology called WebSockets, which creates two independent and simultaneous data connections (called "full-duplex pipe") between two independent web browsers via a server. It's meant to be a more efficient way for two browsers to interact allowing for data to stream between two clients instead of legacy technology that requires a request and a response between two browsers. WebSocket technology is built into other browsers such as Firefox 6, Opera 12.1, and Internet Explorer 10.
It's not the first time Google has introduced games based on WebSockets. Earlier this year it introduced Chrome Super Sync Sports and more recently World Wide Maze. Both games allow you to use your phone or tablet to manipulate a game that takes place on a web browser.
It's unclear what Google has planned for WebSockets, but it is gaining in popularity and is seen in some circles as possible successor to web technologies Comet and Ajax. The company Kaazing says it's working with financial institutions, retailers, and game companies using the technology.
The Chrome Experiments website hosts over 644 experiments. Some of those experiments are from Google and most from Chrome developers. It's no Google Labs, but it's just one examples of how the spirit of the labs lives on.