One of the most underappreciated yet most essential parts of your Android tablet and phone got a big update Wednesday. Can you guess what it is? Yes, that underdog and unsexy utility - the keyboard. Google released its own keyboard for tablets and phones running Android 4.0 (Ice Cream Sandwich) and above.

The keyboard is available from Google Play for free. Standout features are Gesture Typing (allowing you to drag a finger from one letter to the next to spell a word), automatic error correction, and word prediction (that displays what Google thinks your next word might be). Despite the fact the keyboard packs dictionaries for 26 languages, right now the 15MB app is only available via English-language Google Play stores.
Previously Google's keyboard was limited to Nexus devices. Everybody else had to rely on the keyboards offered by the likes of Samsung and HTC that bundled their own customized keyboards with their phones and tablets. Of course you always had the option of downloading your own virtual keyboard such as Swype and SwiftKey for a price. But now Google gives advanced keyboard functions away for free.
While Google's own keyboard isn't unique - Swype ($1) and SwiftKey ($4) have been popular choices for Android users - it does hold a big advantage being free. On the negative side, however, Google's keyboard only runs on about 60 percent of those Android devices that run Ice Cream Sandwich and above.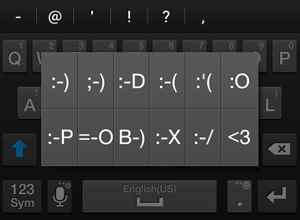 For users like myself, that have been using gesture typing with the stock Samsung keyboard that shipped with Galaxy SIII, Google's keyboard doesn't offer much more features than what I already have. Samsung matches Google's capabilities except for the word prediction feature. However, what makes one virtual keyboard better than the next are the details such as responsiveness and accuracy of the gestures. Two detail missing from Google's keyboard are a menu of emoticons and long-press shortcuts to advanced menus.
It's worth noting Google has been a busy bee updating its Android services as of recent. Instead of launching a new version of Android at Google I/O last month, it has been busy updating everything from Search, Gmail, Google Now, Music, and the Chrome browser.
Perhaps Google will have more big news next week when Apple kicks off WWDC.
Read more of Tom Spring's Planet Google blog and follow Tom on Twitter (@zpring) and Google+. For the latest IT news, analysis and how-tos, follow ITworld on Twitter and Facebook.