Google buying Waze is a match made in the fast lane - it's all good. I'm a big fan of Waze and now with Google behind the scenes I'm eager to see the best minds in digital mapping converge with the best brains in traffic data crowd-sourcing. Google bought Waze for $1.3 billion Tuesday. Waze will remain independent and will continue to build the Waze platform. And that's a good thing because Google and Waze were imperfect apart and have the potential to the perfect copilots.
If you're not familiar with Waze it's a cross between a GPS navigation system and a social network centered around real-time driver data volunteered by Waze users. Driving south down I-95 and want to know what's up ahead? Be it a traffic jam, speed trap, or a busted bumper lying in the road, Waze will let you know.
The free Waze mobile app (available on iOS, Android, & Blackberry) works like any other GPS navigation system giving you turn-by-turn directions, but its user-base of 50 million (in 193 countries) actively self-report and update maps and routes with alerts. With Waze you'll be warned about that smokey hiding behind the bushes or broken down car on the side of the road. And of course, with Waze you're encouraged to report what you see as well.
Bottom line for me is, Waze tells me more about what's ahead than Google Maps for Mobile. It also lets me reach out to other Wazers (as they are called) via a mobile chat features when I'm stuck in traffic so I can ask "What the heck is going on up there?" Of course Waze encourages safe driving and to that end keeps its interface is extremely simple and supports many hand gestures and voice commands so you can keep your eyes on the road.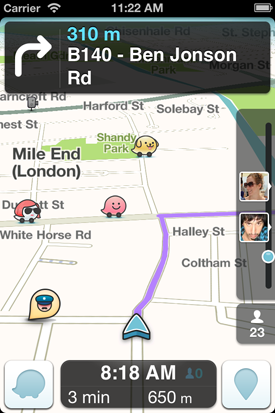 All about social
It's the 50 million Wazers that caught Google's eye. Google has been struggling to ignite its Google+ social network and the prospect of pushing its Google+ user base onto its GPS navigation system is problematic. Number one there is no sure bet Google+ users would migrate if coaxed. And if Google suddenly tied its Google+ users without asking to a GPS mapping service privacy watchdogs would have a conniption fit.
Google has the best digital mapping system period. Google Maps for Mobile offers turn-by-turn GPS navigation, mobile Street Views, satellite views, it suggests points of interest nearby, and offers deals at local retailers. Google also offers a traffic layer, but it can't hold a candle to Waze's traffic data and social integration. The reason Google lags behind Waze is the fundamentally different approach to gathering real-time traffic data each have.
If you use the Google Maps for Mobile, you're sending Google real-time traffic information. Google explains: "When you choose to enable Google Maps with My Location, your phone sends anonymous bits of data back to Google describing how fast you're moving. When we combine your speed with the speed of other phones on the road, across thousands of phones moving around a city at any given time, we can get a pretty good picture of live traffic conditions." The data is presented on maps with either green, yellow, or red lines on roadways.
Waze also collects traffic speed data from people using its app, but it relies on Wazers to report things that impact traffic such as a back-up at a toll booth, an overturned car, or tire in the middle of the road. The Wazer community doesn't stop there. Wazers also notify others of speed traps and traffic cameras, so you know when and where to be alert. Another key feature that Waze has (and Google doesn't) is hands-free features that lets you report traffic with voice commands and a wave of your hand. See something you want to report? Just wave your hand in front of your smartphone and the Waze app will start listening for you to say "report traffic" or "report accident" or "report hazard."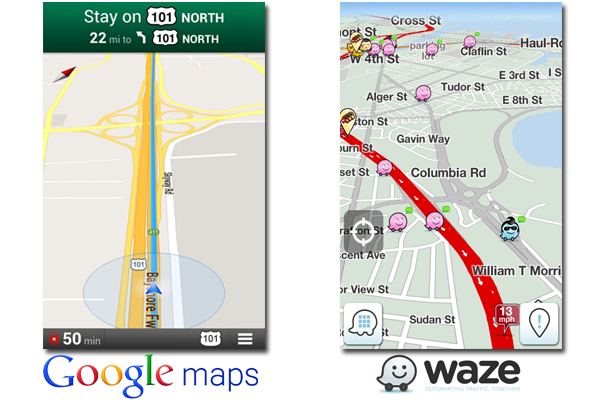 My chief complaint with Waze is its crude interface that looks cartoonish. Also, in my personal experience with Waze driving in New England, Waze's routing and directions have been dismal. On the flip side, Google knows interfaces and its navigation system is superior. Neither Google or Waze is perfect, but together they make the ultimate road trip buddies.
Read more of Tom Spring's Planet Google blog and follow Tom on Twitter (@zpring) and Google+. For the latest IT news, analysis and how-tos, follow ITworld on Twitter and Facebook.