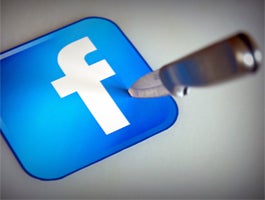 How much are you enjoying your Facebook feed these days? Is it a stream of news, or just a bunch of your friends giving updates on their latest run, making a political rant or sharing goofy images?
According to a new Time report, Princeton researchers are predicting that Facebook's growth "will eventually come to a quick end, much like an infectious disease that spreads rapidly and suddenly dies." With a headline that says "Facebook Is About to Lose 80% of Its Users," this story and study are making quite the rounds on the InterWeb.
Certain aspects of the study are suspect (first, the researchers are from Princeton's Department of Mechanical and Aerospace Engineering, and the study hasn't been peer-reviewed; second, they use disease models to compare Myspace's "death" with Facebook, which has different user bases), but reports like this have a way of gaining traction, and make people think about their relationship with the social media giant.
The latest news reminded me of this video, courtesy of Derek Muller's 2Veritasium YouTube channel. In "The Problem With Facebook", Muller discusses Facebook's filtering method, which basically limits the number of people that a page's content/post can see (unless you pay Facebook).
Meanwhile, a Wall Street Journal report today cites a study by research firm GlobalWebIndex that says "83% of all those who surf the Web are signed up for Facebook." That seems to be good news for Facebook fans, although the report says that only half of Facebook's users are "active", which means they use the site through the Web or mobile apps at least once per month. And there's still the nagging story of fewer teens using Facebook daily.
I don't think that Facebook will die a quick death like some are predicting, but if we start to see more of these stories cropping up as people begin to re-think their relationship with Facebook (for example, would your life be tragically over if Facebook vanished?), then the site's days could be numbered.
How are you using Facebook these days? If you have a love-hate relationship with the site, are you more in love or in hate with it?
Keith Shaw also rounds up the best in geek video in his ITworld.tv blog. Follow Keith on Twitter at @shawkeith. For the latest IT news, analysis and how-tos, follow ITworld on Twitter, Facebook, and Google+.