Google's recent update to Maps removes much of the mystery when it comes to travel, offering powerful tools to virtually visit a destination before jumping into your car. For some, this takes a bit of the adventure out taking an adventure. But for me it elevates stress and can help keep a vacation from veering off track.

Google has rounded up a great collection of travel tools and how-to information at the site Travel with Google. Here you can virtually explore a new city, explore points of interest, and link to tools for navigating any public transit system like a local.
Google's overview is great, but it misses a few of the most powerful Google Map tools. I've been playing around with Google's newest version Maps ( introduced in May) and love the new interface. Virtual globetrotting has never been more fun. But lost is easy access to extremely useful map utilities such as Google's Custom Maps. Another new map feature recently introduced - and worth stressing - is Google's integration with Google+ user and Zagat reviews.
What follows is a quick overview of three powerful Google Map features that will help you get the most out of your long weekend or overseas adventure.
Take GPS and Maps into Data Dead Zones
If your summer road trip takes you where there is no wireless data coverage Google Maps Navigation app for smartphones will leave you dead in the water. No data connection means your phone can't download and render maps for you to follow. The workaround is to download the map (or maps) of the areas you'll be traveling where there is no wireless data access. That way the Google maps you need will be located on your phone. Downloading maps also allows you to avoid expensive data roaming charges.
To download Google Maps to your phone launch the Google Map on your mobile device and then call up the region you want to download locally. Then select Make Available Offline from one of the menu options. You can do this for more than one region, if you want. To give you an idea of storage space needed for a map the entire 108 square miles of Mount Desert Island in Maine took up 9MB.
GPS guided turn-by-turn directions will work uninterrupted even if you hit data dead zones. But one snag I encountered was when I tried to program new destinations into the downloaded maps. Google kept trying to connect to the Internet to determine the best route. Even though I couldn't program Google Maps to give me turn-by-turn directions I could easily follow the Google Maps to where I wanted to go.
Google Your Tour Guide
A fantastic planning tool for vacations is the ability to build Custom Google Maps. These maps give you valuable context of where you are headed and what is nearby. You can easily use them to create itineraries based on what's close and figure out the most efficient way to go from point A to B. After you've created and saved a custom map you can later call it up on your smartphone or tablet when you get to your destination.
With the new Google Maps interface it's not so easy to access the Custom Maps feature anymore. With the previous version of Google Maps there was a shortcut to My Places where you could create Custom Maps right from the main Maps page. With the new Google Maps, first open up Maps and look over in the upper-right-hand corner and click on the Setting icon (that's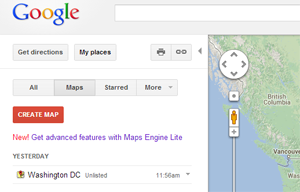 the one that looks like a little gear - see above image). A drop-down menu will appear with the option My Places. Click on that and now you'll see the tabs All, Maps, Starred, and More. Below that you'll see the option "Create Map."
One of the best features of Custom Maps is the ability to collaborate and share maps with others. This lets a group of people to create a shared itinerary - allowing multiple people to suggest points of interest to visit without one person hijacking a trip.
Go Local
The holy grail for any out-of-towner is finding the great local haunts and avoiding the typical tourist traps. Of course there are great tools such as Yelp for finding great places to eat. But with Google's newest rev of Maps social now becomes front and center, putting reviews of restaurant and attractions directly on local maps.
Google leverages its own Zagat reviews along with a growing database of Google+ user reviews. There is nothing unique about offering reviews, but what is extremely handy is the overlay of Google reviews on top of its slick mapping interface. Navigating maps and simultaneously discovering interesting places seamlessly melds the two distinct intentions into one action. This not only saves time but also creates connections that might not otherwise be revealed.
The convenience of the tight integration of interface and reviews becomes even more apparent when you add the layers of GPS and mobile. With Google Maps for Android all you have to do is select the red Local icon and Google populates Maps with a data layer of nearby Restaurants, Cafes, Bars, and Attractions. You can filter those results by either cuisine, distance, rating, and price.
Reviews are based on a combination of people in your Google+ social network or from Zagat scores. When reviews from your Google+ circle aren't available than Google will default to the larger community of Google+ users.
Read more of Tom Spring's Planet Google blog and follow Tom on Twitter (@zpring) andGoogle+. For the latest IT news, analysis and how-tos, follow ITworld on Twitter andFacebook.