Page 2 of 2
Drop down gorgeous
MaskMe is pretty good, but the process isn't always exactly seamless. As with Abine's DoNotTrackMe tool, MaskMe's performance varies from one Web site to the next. With sites like LinkedIn, for example, it worked like a charm, displaying an option for creating a new email or password the second I clicked on the login form.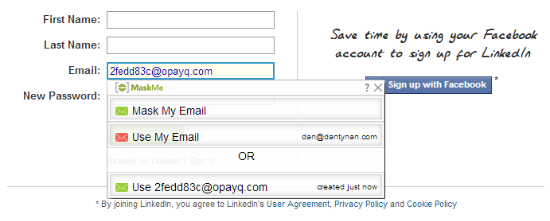 With sites like Pinterest, I had to right-click and use drop-down menus to access MaskMe's stuff. A bit more work, but not onerous.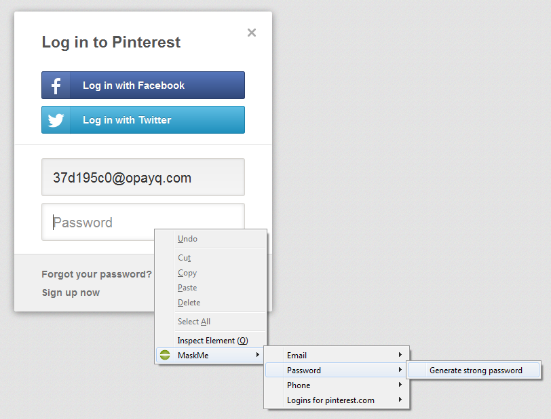 But with yet other sites, I ran into some problems. For reasons that are yet unclear, it took me four tries before Tumblr would let me create a new account with MaskMe. I had to grapple with CAPTCHAs before Twitter would recognize me as a human. With other things that required a logon, like Amazon's Cloud Player, I had to manually copy and paste my MaskMe info.
Downey acknowledges that MaskMe works better with some Web forms than others, but she notes that workarounds are always available. You know that old line about how if you really want privacy you have to be willing to sacrifice some convenience? That applies here.
A fresh start?
The biggest thing you need to remember about MaskMe is that it's really best when you're signing up for a site you've never used before. To use it with, say, your existing Facebook account, you'd need to log in as normal, then go into your settings and change your email and password logon to the random ones generated by MaskMe, then log out. And you'd need to do that for every single site you already use – there's no way to do it all at once.
The question is, Why would you? These sites already have your identity. Facebook in particular is infamous for keeping all your data for as long as it can. Changing your logons now won't change what they already know about you. And, of course, you're sharing so much personal information on social sites that in this context going anonymous is kind of pointless.
Unless you're a total newbie entering the Web for the first time, you're most likely to use MaskMe to open secondary social accounts where you don't want your real-world identity to be known, or dealing with dodgy Web merchants you don't entirely trust. And that's fine.
I recently ordered a new projector lamp from a Web site I had never used before, which immediately charged my card but didn't send the lamp for two weeks. I had to threaten them to get them to cancel the charges, worrying the whole time that I was being scammed. (Turns out I wasn't.) If I'd had a virtual credit card back then, I could have immediately de-activated it, and kept potential scammers from charging any more to it than they already had. That alone is worth $5 a month to me.
Got a question about social media or privacy? TY4NS blogger Dan Tynan may have the answer (and if not, he'll make something up). Follow him on Twitter: @tynanwrites. For the latest IT news, analysis and how-to's, follow ITworld on Twitter and Facebook.
Now read this:
The Latvians have invaded LinkedIn. Can the NSA be far behind?
Further adventures in data mining, or welcome to my Lear Jet Lifestyle