Over the last year, survey after survey has shown the same thing: Your personal digital information is worth cash money, and not a piddling amount. This could ultimately lead to what some folks are calling a new 'green' economy based on privacy.
A survey by Unbound ID and Compass Intelligence released today reveals that executives would be willing to pay up to $124 per head to get their hands on your personal information – or about 100 times more than they're willing to pay for anonymized data. Even at that price, it would be a bargain compared to the $12.4 billion US companies spend each year on lead generation.

In the same survey, consumers estimated the value of their own Facebook and Google+ information anywhere from $62 to $106. Of course, the value depends on the depth and breadth of the data being collected, how much you share and how frequently you share it. An email address alone is worth maybe 10 cents at best to marketers. To extract the full value of your data, marketers want the whole schmear -- your full name, contact info, demographics, activity, the identities of your friends, and more.
In another UnboundID survey released last month, more than 60 percent of consumers said they expect companies to obtain their permission before using their data, and that they'd be willing to part with personal information if they got something in return.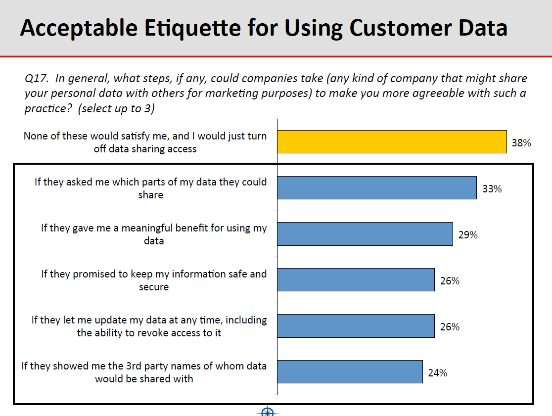 This echoes other surveys released over the last year. A year ago, for example, a PwC survey showed people across the board would be happy to hand over some of their information in exchange for free movie tickets, popcorn, and the like, though younger generations are more likely to cut that kind of deal. Another survey of millennials by the Annenberg Center for the Digital Future also noted that people of a certain youthful disposition not only would be willing to horse trade their information for stuff they want, they expect it.
On the other hand, surveys by researchers at Carnegie Mellon indicate that consumers may or may not be willing to spend $2 extra to protect their privacy, depending on how the question is asked.
Still, one thing seems clear: We are in the dawn of a privacy boom, in which companies compete for your loyalty based on either how well they protect your stuff or how much they give you in exchange for it. That's the point of a new survey by Forrester, due to appear tomorrow.
In the future, companies will have to figure out how to be more transparent about the data they collect and how they use it, says the wonderfully named Fatemeh Khatibloo, senior analyst for Forrester Research. And they'll have a strong incentive to do it – it will save them money.
"Companies are spending astronomical amounts gathering and storing data they don't know what to do with, don't really need, and struggle to keep secure," she says.
As reported by GigaOm, the Forrester survey also shows some 27 percent of Netizens say they use an ad blocking tool, while another 27 percent said they used either an anti-tracking utility or the Do Not Track settings inside their browser.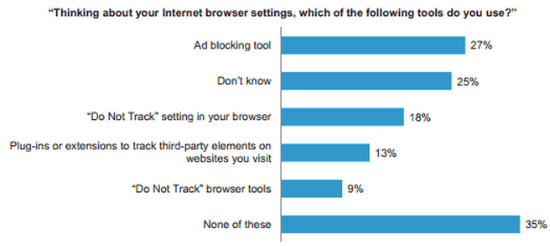 Personally, I think those numbers are probably an order of magnitude higher than reality. I believe ad blocking and DNT tools are used by millions, but their raw percentages are still in the single digits.
The conclusion I'd draw from that data is a little different: Somewhere between 27 and 54 percent of users don't have a clue what ad blockers and Do Not Track tools actually are, but they like the sound of them. And that's a start.
Got a question about social media or privacy? TY4NS blogger Dan Tynan may have the answer (and if not, he'll make something up). Follow him on Twitter: @tynanwrites. For the latest IT news, analysis and how-to's, follow ITworld on Twitter and Facebook.
Now read this:
Survey: Americans Willing to share data, if they can control who sees it.
Millennials do care about Internet privacy, they're just smarter about it.
When it comes to privacy, we're all just a little bit nuts