It's been a bit since we've checked in with Joerg Sprave, our favorite German YouTube weapons creator. The creator of The Slingshot Channel continues to impress us with his weapon-creating skills and unsettling glee at shooting things into ballistic gel.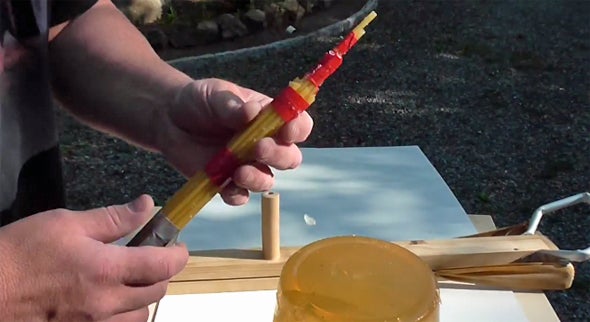 His latest video is now up on YouTube - "Combat Pasta - Weaponizing Spaghetti". And you thought it was just unhealthy if you ate a lot of it. Nope, it can also be dangerous if you bundle them up with electrical tape and add blades.
If you want to catch up on some other Sprave creations, check out some of these other videos, in which he makes weapons out of toilet brushes, drills and brooms.
How to turn a drill into a monster shotgun:
The Anti Quidditch Slingshot Flak (Broom Ack Ack)
I always have two thoughts when watching Sprave's videos - 1) Why hasn't the Discovery Channel given this guy his own TV show? and 2) I want this guy on our side during a Zombie Apocalypse - he's the German MacGyver.
Keith Shaw rounds up the best in geek video in his ITworld.tv blog. Follow Keith on Twitter at @shawkeith. For the latest IT news, analysis and how-tos, follow ITworld on Twitter, Facebook, and Google+.