With the rise of 3D printing and other cool technologies, we're now at the point where you can quickly and easily create an action figure of yourself for the price of a video game.
Check out this video from the folks at Artec Group - the Shapify.me app and service uses a Microsoft Kinect camera (via either Windows or Xbox 360) to create 3D scan of a person, which is then uploaded and used to create an actual 3D action-figure model (at about 1/20th of your actual size).
Prices start at $59, with free delivery to the U.S. and Europe, with delivery to other countries planned soon. The monochrome or color figure is made of either white or multicolored plastic - if you want, you can choose the white version and paint your own figure. Requirements for the scan include a Kinect camera (either the Xbox 360 or Windows model), a Windows 7 (64-bit) or Windows 8 PC, Intel Core i3 or later with at least 4GB of RAM, audio speakers, a USB 2.0 port and Internet connection.
Who else wants a cloned mini-me version of themselves?
Here are some photos provided by Artec Group of some of the figures and their relative size: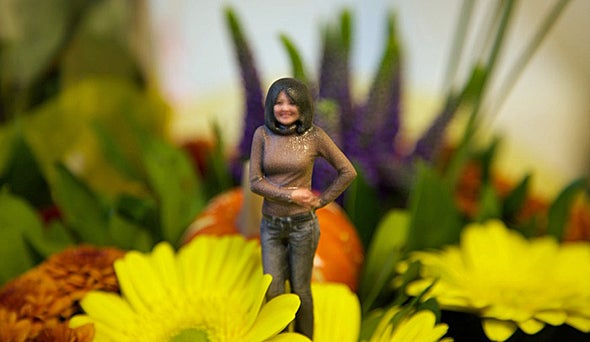 They look slightly creepy seen this up-close, but I still think I'd want to do this for myself. I'd imagine that you could use these quite well in your next Dungeons & Dragons adventure, or break out your mini-me action figure the next time the family plays Monopoly. It certainly beats getting stuck with the thimble or the old shoe.
Keith Shaw rounds up the best in geek video in his ITworld.tv blog. Follow Keith on Twitter at @shawkeith. For the latest IT news, analysis and how-tos, follow ITworld on Twitter, Facebook, and Google+.