At a special live event this afternoon, Disney announced the second version of its Disney Infinity video game franchise, this time including heroes from the Disney-owned Marvel universe.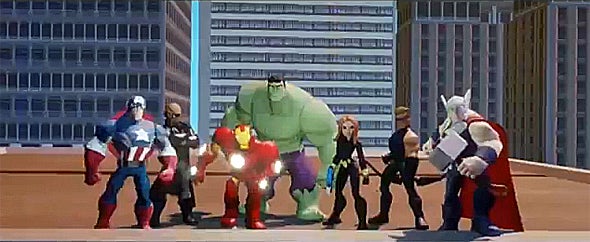 Coming in Fall 2014, players can expect to control Iron Man, Captain America, Thor, Hulk, Black Widow and Hawkeye (among others) within the Disney Infinity universe. The company said that more than a dozen other characters will be available in the game, but they're being coy at the moment about additional characters. However, trailers have shown Spider-Man, the Guardians of the Galaxy (based on this summer's film), M.O.D.O.K. and Loki, as well as other Disney-themed characters such as Merida (from "Brave") and Lilo & Stitch). Commenter speculation on the YouTube live feed was that more characters would be announced at the E3 gaming conference in June (but again, those are just rumors/speculation).
The game will work with older video game consoles (Xbox 360, PS3, Wii U, iOS, PC), but will also expand to the next-generation systems (PS4, Xbox One). Perhaps this will be the game that gets parents to purchase a new console? (probably not, unless there's exclusive content for those owners, which seems unlikely)
Some other good news for fans of the original games (and their parents): All of the characters from the first version will work with the second game, as well as power discs and player-created Toy Box saves. Unlike the Skylanders video game, the new version of Disney Infinity won't require a new portal accessory purchase - the original portal will also work with the new game (huzzah!).
The game will feature a new Avengers game world (complete with the Marvel vision of Manhattan), and an expanded toy box mode for non-linear gameplay.
Here's the teaser for the game, including everyone's favorite super-heroes:
My biggest complaint (other than the money I'll inevitably have to spend on all these new figures) is the trickle of information regarding new characters and play sets - if you know who's going to be playable within the game, let us know now instead of waiting for another event. It was like this with the Sony PS4 and Xbox launches, slow trickles instead of laying it all out for people. Ugh.
Keith Shaw rounds up the best in geek video in his ITworld.tv blog. Follow Keith on Twitter at @shawkeith. For the latest IT news, analysis and how-tos, follow ITworld on Twitter, Facebook, and Google+.