Disney has loaded a new trailer for its "Disney Infinity 2.0" game, still coming in Fall 2014, that showcases two new, non-Marvel characters: Merida from the Pixar movie "Brave" and Maleficent, the "evil" witch from "Sleeping Beauty" who just happens to have a movie coming out this week.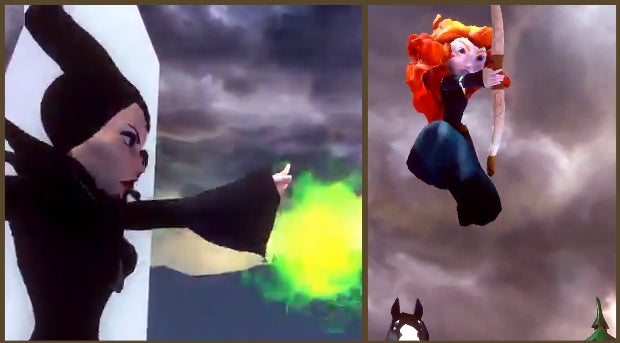 It's not too much of a surprise, since brief glimpses of those characters were shown in the initial trailer for the game (we also saw Stitch and other Marvel heroes and villains that haven't been confirmed yet). Here's the trailer that showcases some of the scenery and action with Merida and Maleficent:
This is good news for my two daughters, who love playing the current Disney Infinity game and tend to play with the available female characters (Violet and Mrs. Incredible from "The Incredibles"; Jessie from "Toy Story"; Elsa and Anna from "Frozen", of course; and Rapunzel from "Tangled"). I'm sure they would have gravitated towards Black Widow from the initial Marvel action figures, but it's also nice to have additional characters for them to choose from.
We still need to figure out a way for the game to allow three players at the same time, as we currently have to have one child sit out while the other two play. I'd even be willing to buy a next-generation console if we could hook up two sets to multiple TVs for that feature.
Still hoping for some more character reveals next month at the E3 video gaming conference - best guess would be the Guardians of the Galaxy (movie coming in August) and additional Marvel characters. I doubt they'll include any Star Wars characters until we get the third version of the game with the release of Episode VII. Synergy, you know.
What do you think of these two new characters? Good, bad, indifferent? Let me know in the comments.
Keith Shaw also rounds up the best in geek video in his ITworld.tv blog. Follow Keith on Twitter at @shawkeith. For the latest IT news, analysis and how-tos, follow ITworld on Twitter, Facebook, and Google+.