If that rectangular present under the tree or boxy bulge in the stocking turned out to be a new Android phone, then congratulations: We hope that it's the flagship (or at least stellar mid-range) device of your dreams.
But if that is the case, then you need to do right by your old companion—assuming you don't want to keep it around as a backup. That means first making sure that your personal data is inaccessible to whoever might have the phone next, and then figuring out the best way to part with it: selling, donating, or recycling. And yes, that includes broken phones.
None of this is particularly difficult, but it does take a little bit of time. We'll save you the research and hassle so you can obsess over your new phone. Here's what to do with the old one.
Encrypt and reset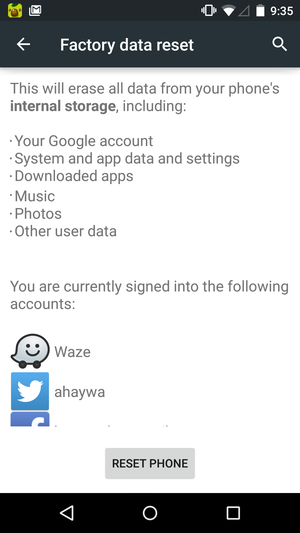 Performing a factory reset on your Android device seems like an end-all, be-all solution, right? After all, the phone didn't come from the factory with your private photos and emails installed, right?
However, a factory reset typically just tells the device that all of your old data can be written over with other content. Chances are that nobody is actually going to tap into that data, because it's not easily accessible, but why even risk the possibility that it falls into the wrong hands? Luckily, Android makes it easy to encrypt your data before a factory reset, making it much tougher to crack.
It's as simple as this: Go into Settings on your Android phone, tap Security, and find the Encryption option. The phone needs to be both plugged in and fully charged, and the process could take more than an hour, but at least then you'll have the peace of mind that your data won't be easily discovered following that factory reset. Go ahead and reset your device from the Backup & Reset menu under Settings and let the process complete. Then you can power down the device, remove your SIM card (and micro SD card if you have one), and figure out what's next for your old phone.
A special note/exception: New devices running Lollipop out of the box are already encrypted. And if you updated your existing device (like a Nexus 5) to Lollipop, performing a factory reset will likewise automatically encrypt the data. We doubt many of you are planning to upgrade from a Lollipop device at this point, but it's worth mentioning.
Selling your phone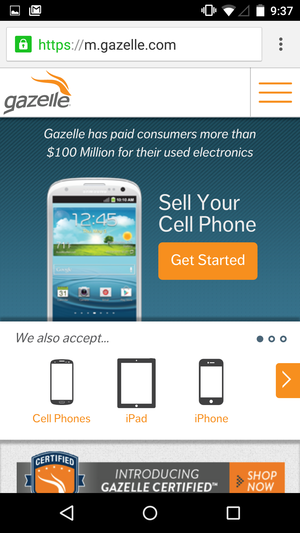 Now that your old Android phone is encrypted and properly reset, what should you do with the thing? If it's still in pretty good condition, you can sell it and make some solid money in the process. Even though phone models are frequently replaced by better versions, the older devices are still powerful, useful handsets, and may be in demand on the secondary market or in developing countries.
The easiest way to part with a used phone is to use an online service like Gazelle or Amazon. Simply look up your phone by model and carrier, and you'll be given an offer for the device based on the condition you state it's in. If you accept, then Gazelle will mail you a shipping container and a label, while Amazon lets you print the label and use your own box.
Prices can vary widely, so check multiple services (others include Glyde and eCycle Best) before committing to a sale. For example, Gazelle offers $75 for a 32GB HTC One (M7) on AT&T in good condition (as of this writing), while Amazon pays $111 for the same device. And Gazelle pays $165 for a 32GB Samsung Galaxy Note 3 on Verizon, while Amazon's offer comes to nearly $194. Amazon pays in credit, however, while Gazelle will mail you a check once the phone is received and verified, so it's worth weighing your options.
If you'd rather do something local, big box retailers like Best Buy and most cellular service providers also offer trade-in options for credit. And a service like EcoATM has kiosks in malls that will pay you cash on the spot for your device. Of course, you can try to sell your phone on eBay or Craigslist, which typically brings more money but also potential for fraud. It's your call, but the ease and safety of the buyback services can save you a lot of hassle in exchange for a slightly lower payment.
Donate or recycle
If you'd rather have the device help someone in need, considering donating it to a charity that can put the phone in the hands of someone who needs it, or otherwise sell it and use the proceeds for a good cause.
Verizon's Hopeline initiative helps survivors of domestic violence by providing victims with usable phones with free calling and texting, and also distributes phones to organizations that work with survivors. Another option, Cell Phones for Soldiers, sells the donated phones and spends that money on calling cards that are distributed to active service members.
If your phone has a cracked screen or other damage, don't immediately count it out. Buying services frequently purchase phones in need of TLC, albeit at a much lower rate, while some charities may accept damaged phones. Some may not, however, so be sure to read the fine print before shipping off your phone.
However, if the phone has little remaining value and isn't worth salvaging, take the time to properly recycle it. Many phone manufacturers take mail-in recyclable phones, carriers typically accept them (Verizon lumps it in with the Hopeline program), and even retail stores often have dropboxes for such things. Goodwill works with partners to recycle phones, so check your local center. Whatever you do, don't toss a phone in the trash! The chemicals within aren't meant for the dump, and talk about a sad fate for a device that probably did a lot of good for you for a long stretch of time. Show it one final sign of respect.
This story, "Got a new Android phone? Here's how to properly get rid of your old one" was originally published by Greenbot.