The best Super Bowl companion apps for your Android phone or tablet
There are plenty of good apps for keeping tabs on stats, analysis, or finding something else to do if the game is a snoozer.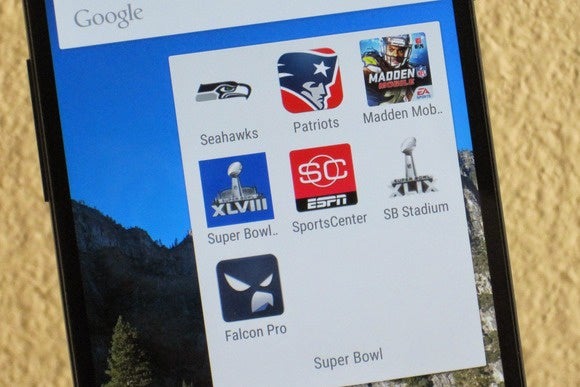 The Super Bowl is here again, and along with the excessive amount of food and drinks you'll need to buy for the party, you should make sure you stock up on the right apps.
That's because whether you're rooting for the Seahawks, Patriots, or just a final score that will earn you some cash, there's going to be online banter to comment on and a bunch of downtime thanks to all those commercials.
Check out our guide to streaming the game if you're not certain of your TV situation. Once that's taken care of, grab these apps for a better experience, especially if you get stuck on the couch between your foul-smelling neighbors again.
Get the official Super Bowl game program
The NFL again has put the official Super Bowl XLIX game program in the Play Store. For $2 you can flip through a digital version of the book that probably sells for a lot more at the game. 
But fortunately it's not just a PDF—you can launch images and other content through interactive hot spots. The app works on phones and tablets, but it is much easier to read and navigate on larger screens.
Grab your team's official app
If you're a fan of either of this year's participants you may want to spend the pre-game minutes or downtime checking out their Super Bowl interviews or last-minute news items.
The Seahawks and Patriots have official apps that aren't just great for the game, but worth having to follow the teams throughout the season.
Another bonus: The app icons put your favorite team's logo right on your home screen. A great way to show off your pride and proclaim your fandom.
ESPN ScoreCenter is a stat geek's delight
Sometimes when you're watching the game you want more information. There's key stats, player performance, and of course reactions to all of the action by commentators on Twitter.
The app that pulls all this together best is ESPN ScoreCenter. The Gamecast feature is tracks game progress and has all the statistical data you will want for breaking down the action. This way you can fact check when the announcers make a statement about a player's performance or you can find out if that really was the game's third turnover.
Make your own Super Bowl with Madden NFL Mobile
There's always the chance the game will turn into a blowout, like last year's 43-8 crushing of the Denver Broncos by the Seahawks. If that's the case, you may want to turn to some gaming to stay entertained between trips back to the taco bar with Madden NFL Mobile.
Like any proper EA game it's loaded with an excessive amount of in-app purchases, but it's pretty fun nonetheless and can create the outcome you want if things aren't going your way in the real game.
Pretend you're there with the Super Bowl Stadium App
Even if you're not headed to the game, you can get a sense for what it would be like by installing the official app the NFL built for people going to the game.
The Super Bowl Stadium app tells you where all the goodies are, like concessions and souvenir booths. If you're one of the lucky few shelling out a couple grand to attend the game, connect to the stadium's Wi-Fi to unlock replays, live footage, and other in-game features.
Don't forget about Twitter
The best source of instant reaction for any live event is now Twitter. The official Android app is pretty good and should serve the needs of the casual user just fine. Use the search feature to track down official accounts or to follow sportswriters, players, and commentators.
If you fancy yourself a power user then go with Falcon Pro 3. It's $4 for access to one account, but the app's excellent Material Design and integrated images and web links make it a worthwhile purchase.
This story, "The best Super Bowl companion apps for your Android phone or tablet" was originally published by Greenbot.
Shop Tech Products at Amazon