What to see all the terms you've searched for on Google? Although we've long been able to view our search history in our Google accounts page, now we can download this data to analyze it more--or perhaps find embarrassing searches we might want to delete.
Venture Beat recently spotted this export feature, although it seems to have been quietly introduced to everyone in January.
Still, if you didn't know this existed, here's how to download your past searches:
Click the options icon in the top right of the page, then Download
Read the security warning, then click Create Archive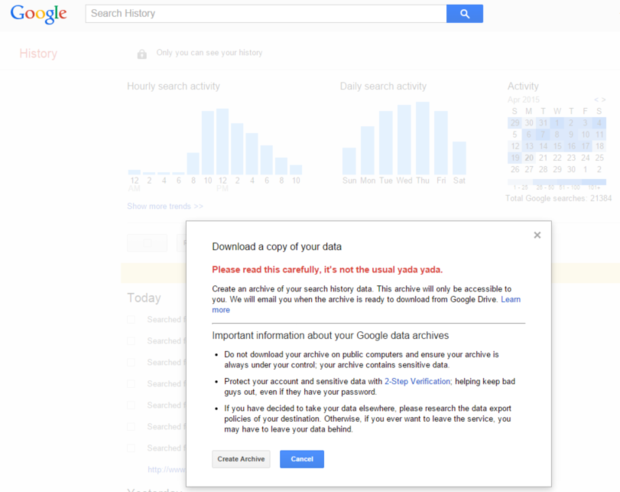 Google will email you when the download, a JSON file, is complete. It will be placed in the Takeout folder of Google Drive and you can save a copy to your computer locally.
Marco Slooten posted on The Next Web a tool to make the JSON file more readable, with a single column of search terms you could copy and paste elsewhere. Slooten says he is not able to read your search history and you can check the tool's code to verify. 
I'm both curious and afraid to see my past searches; apparently I've searched Google 21,222 times. The search terms include both mobile and desktop terms. If you're surprised or appalled by the record of your searches, this is where you can turn your history recording off.