I do most of my travel planning and location-finding tasks on the desktop (I'll take a full-size keyboard over the tiny mobile one any day). So Google's latest update is a welcome one: When looking up a location on Google, you can quickly send it to your phone for navigation.
To do this, go to Google.com on your computer and enter "send directions." You should see the widget below.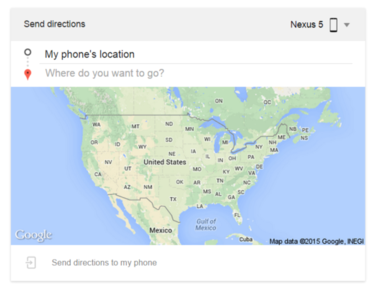 Then type in your destination and click the "Send directions to my phone" link. Easy peasy!
A few details: You'll need to have an Android phone registered to your Google account. You can swap between different Android devices using the dropdown box at the top of the widget. And this should work not just in Chrome but in Firefox and Safari too.
Next time you're headed out to a new restaurant or some other outing, you don't have to start your maps search from your phone.
[h/t The Next Web]