A message from Microsoft
Microsoft recently placed this notification on the MSDN developer forum:
This communication is to let you know that after May 13, 7 pm, Pacific Standard time, it will no longer be possible to unlock Windows Phone 8.0 devices for app testing. We recommend that you unlock your Windows Phone 8.0 test devices prior to May 13, 7pm, 2015, to continue testing for another 24 months in these devices. After May 13, 2015, no Windows Phone 8.0 device will be able to be developer unlocked, and you will have three options to continue testing Windows Phone 8.0 packages: updating the phone to Windows Phone 8.1 and unlocking it for developer testing, submitting the apps as beta through the Windows Dev Center and testing in WP8.0 devices, or testing your Windows Phone 8.0 apps via the Windows Phone emulator.
Any Windows Phone 8.0 device currently unlocked will continue to be unlocked and work as a test device until its certificate expires. To maximize the time available to test with this device, please lock then unlock the device before May 13, 7pm, 2015.
Note that this change has no impact on apps available in the Windows Phone Store, nor will it impact customers with Windows Phone 8.0 devices.
 Although this deadline doesn't affect Windows Phone 8.1 test phones, you can use the Windows Phone Developer Registration tool to determine whether a phone is validated or not. Open the tool, then unlock the Windows Phone's screen before plugging it in to the USB port. At this point, the registration tool will scan the phone to determine registration status.
If the Windows Phone app runs immediately after plugging in the phone, close the app using Alt-F4. Otherwise, you may see the following error message (Error code 0xC) when the tool tries to validate -- this can occur even if the phone screen is unlocked: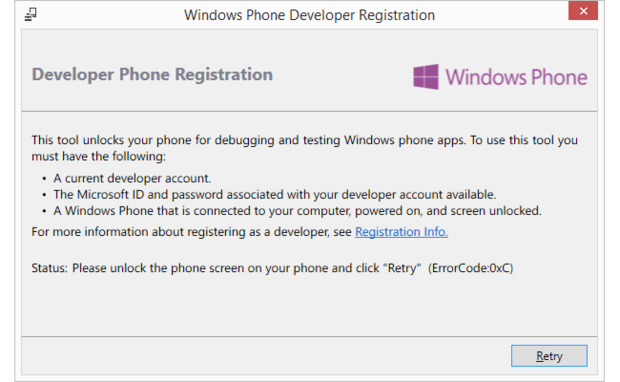 After the Windows Phone app has been closed, click the Retry button in the tool window. The tool should display this message if the phone is registered:

More information
Microsoft has more information available for Windows Phone developers on the Windows Dev Center page.
This article is published as part of the IDG Contributor Network. Want to Join?