Some official-looking slides have the Anandtech forums buzzing over a major revision to the Intel server platform, one that the slides claim is the "biggest platform enhancement since Nehalem."
In case you forgot, Nehalem was where Intel moved the front side bus and memory controller onto the CPU, just as AMD had done a few years prior. It regained the performance lead over AMD and that, combined with AMD's failure with Barcelona, put Intel back on top for good.
Purley is going to be the single platform that unites what had been multiple Intel platforms. There's the high-end Brickland platform that uses the Xeon E7, the Grantley-EP 4S platform for mid-ranger and efficient performance, and the Grantley-EP 2S platform on the low end. Purley will scale up and down to replace all three platforms.
Purley moves from a quad-channel memory architecture to a hex-channel memory architecture that will deliver a 50% increase in memory bandwidth. It will also support higher memory frequencies than Broadwell-EP CPU.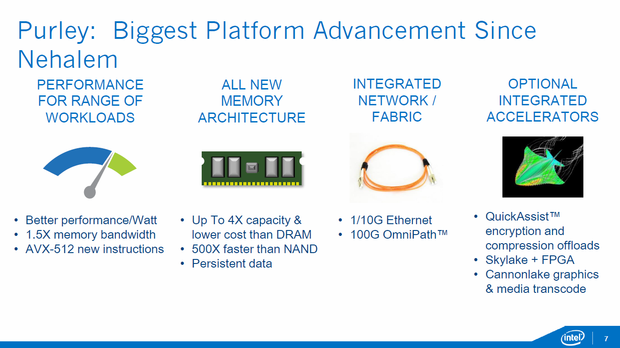 On one slide, Intel says it will be bringing "all-new memory architecture" that will enable four times the capacity relative to its last platform. It also claims to allow for persistent data, similar to a flash drive in that data isn't lost when the system powers down, but it will be 500 times faster than traditional NAND flash.
This is likely some kind of new non-volatile memory that's in the works, like ReRAM. ReRAM promises the speed of DDR memory but the storage capabilities of NAND. It hasn't hit the market yet because it's a few years off. And so is Purley. So the launches might line up.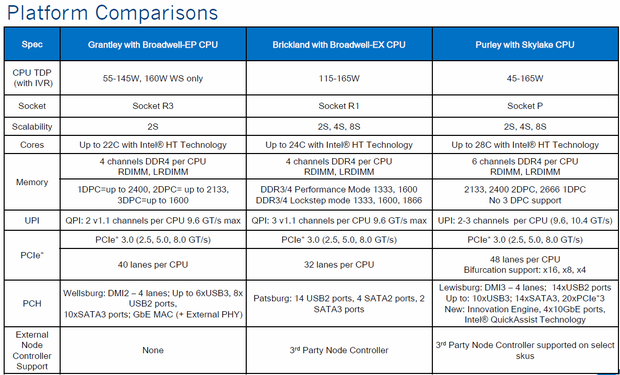 The core count will also go up on the high-end. Intel just announced Haswell-EX, its top-of-the-line Xeon E7 for four- and eight-socket systems. It will come with 18 cores and HyperThreading for 36 threads per CPU. The next generation, Broadwell-EX, will sport 24 cores and 48 threads. With Purley, Intel will bump the core count up to 28 and threads go to 56.
Skylake on the desktop is notable for its significant increase in non-CPU throughput, like PCI Express lanes and USB 3 ports. The same will apply to Purley. It will have 48 PCI Express lanes, compared to 32 in Broadwell-EX, and the number of USB 3 ports goes from six to 10, along with 14 SATA III ports.
Networking will also get a big boost with 4x10GbE lanes, which is a massive jump over the current 1GbE integrated into the server platform. One of the decks makes reference to something called an "Innovation Engine," which the slide deck says is a "dedicated core for increased customer control."
Now for the bad news. It won't launch until at least 2017. Intel currently has Brickland, Romley and Grantley on tap for this year, and Grantley replacing Romley as the mid-range platform next year. Still, it reflects how incredibly Intel can push itself to excel even when it has very little real competition.
Intel declined to comment on the rumors.