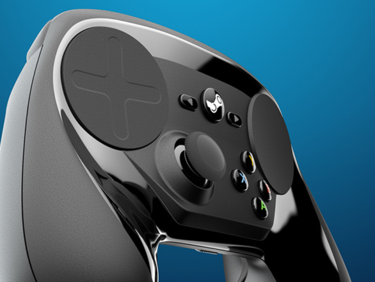 Valve surprised everyone, or at least everyone I know, when it opened up pre-orders for Steam Machines yesterday.
What's a Steam Machine? It's a PC running Valve's SteamOS (based on Linux) and intended for the living room. They ship with a custom controller that is suppose to eliminate the need for a mouse and keyboard when playing PC games. There are a variety of form factors and performance tiers coming from different manufacturers, so you and I could both own Steam Machines but have very different gaming experiences.
Valve has been working on this ecosystem for a few years now and originally Steam Machines were supposed to arrive holiday 2014, but fairly late in the development cycle (after many companies had announced they'd have Steam Machines available) Valve postponed the release of SteamOS. A few manufacturers, like Alienware, pivoted their Steam Machines and launched them as small-form Windows machines (in Alienware's case, as the Alienware Alpha).
I guess it's safe to say if Valve is now accepting cash for these things, they're actually going to arrive this fall. Finally!
Currently there are two Steam Machine product lines available on the Steam Store. There's an Alienware that starts at $449 for an i3 processor, 4 GB of RAM and a 500 GB drive, and runs up to a $749 model with an i7 processor, a 1 TB hard drive and an unspecified amount of RAM (the next tier down has 8 GB so I expect this $749 has a least that and maybe more). All models have "an nVidia GeForce GTX GPU w/2GB GDDR5" which is kind of vague, isn't it?
The second system is from Syber. It starts at $499 for an i3 processor, 4 GB RAM, a 500 GB hard drive and a NVIDIA GTX 750 with 1 GB GDDR5, and runs up to a $1419 system with an i7 processor, 16 GB RAM, a 1 TB hard drive and an NVIDIA GTX 980 with 4GB GDDR5.
Given these two choices and if you're determined to pre-order now, I'd suggest checking out the Syber website; at least they have full specs. For some reason Steam is driving us to a Gamestop page for the Alienware rig and info on these systems is pretty spotty. Valve also says more Steam Machines are coming soon.
But why would you pre-order one of these things anyway? Well there is a "limited quantity" of stock that will ship on October 16th, while folks who don't pre-order will have to wait until November 10th to get their Steam Machine.
If you're not willing to spend so much, there are still options for you. You can purchase just a Steam Controller for $49.99, (it's supposed to work in Windows) and/or you can purchase the Steam Link for $49.99. The Steam Link is basically a client for Steam's In-Home Streaming. If you have a beefy gaming rig in an office, you can stream from it to a Steam Link hooked up to the TV in your living room, and control it all with the Steam Controller.
That's the theory anyway. I'll let you know how well it works come October because I pre-ordered the Steam Controller & Link Bundle (which goes for $99.98, saving you exactly nothing). I'm not really interesting in spending $450+ to get a bottom-of-the-line Steam Machine (and even less interested in spending more than that) but $100 to get more use out of my existing gaming rig seems worth it to me. Assuming it all works well. I guess we'll know come October.