5 free Wi-Fi stumbling and troubleshooting tools for Windows and Mac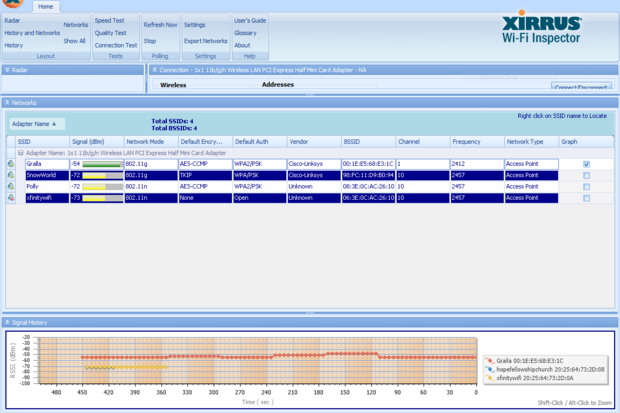 Want to find, troubleshoot, and discover information about Wi-Fi networks? I've got five great free tools you can't pass up.
I've used this free Wi-Fi sniffer for Windows for a long time, and continue to use it. It locates nearby networks and gives you plenty of information about them, including how close or far away they are. It displays networks spots on a radar-like display. A separate pane offers detailed information about every hot spot it finds, including signal strength, the kind of network, the router vendor, the channel on which the network transmits and whether it's an access point or an ad hoc network. There's more as well, such as your internal IP address, external IP address, DNS and gateway information, and so on. Note that on the download page it doesn't mention Windows 8 compatibility. But I've used it with Windows 8.
This tool is useful for people who are planning to build a Wi-Fi network, or have one whose coverage is flaky, and are looking for dead spots. It takes a bit of work, though, so be prepared to put in your time. You run the program then walk around the area your network covers, essentially creating a map. The HeatMapper then creates a heat map showing you the coverage, including areas that are weak and those that are strong.
This OS X app shows you all nearby Wi-Fi networks, including their SSIDs, Mac address, and channels. Click on any network for more details, including noise levels. It's free, but you'll have to register to get rid of the nag screen.
This great Windows-based tool shows a tremendous amount of information about Wi-Fi networks, including complete SSID information, signal quality for networks and channels, and what devices are connected to the network. There's a lot more as well, including a brute-force tool for testing password security.
If you like simplicity, this Windows-based application is for you. It's a small download that shows Wi-Fi networks, their strength, and the type of encryption they use. Not much more, but for simplicity, it can't be beat.
Shop Tech Products at Amazon