If you've got a Samsung PC, there's a chance that Windows updates have been disabled on it, putting your PC at risk. I've got the dirty details.
The problem was discovered by Microsoft MVP Patrick Barker, who specializes in debugging software. He detailed the issue on his blog, Debugging and reverse engineering.
Barker found that Samsung's SW Update software has been disabling Windows updates on some PCs. SW Update, is, in Barker's words:
"...your typical OEM updating software that will update your Samsung drivers, the bloatware that came on your Samsung machine, etc. The only difference between other OEM updating software is, Samsung's disables WU."
SW Update installs on Windows XP, Windows Vista, Windows 7, and Windows 8, so it blocks Windows updates on a wide variety of machines. The actual offending part of SW Update is the application Disable_Windows.exe. You can download that file by itself from Samsung's Web site. It's a ZIP file. I downloaded it and looked in the ZIP archive. You can see it in the screen below.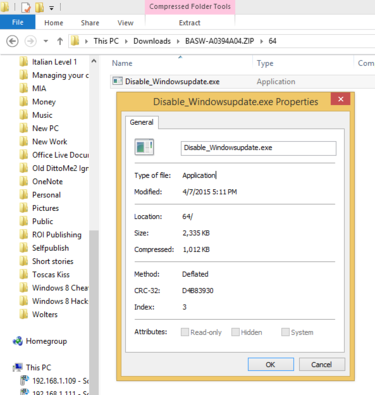 Why is disabling updates a dangerous thing? Microsoft frequently updates Windows with security patches, to protect you against the latest malware and security threats. If your machine is blocked from installing them, you're at risk.
For the moment, there's nothing you can do about it. Barker tried uninstalling the offending file, but had no luck. Here's what he says:
"If you uninstall it from Windows' Add/Remove (or Uninstall a program) list, and restart, it doesn't appear to uninstall properly. The SE Update Service is still active and running, as well as the existence of the \ProgramData\Samsung folder which would still inevitably contain "Disable_Windowsupdate.exe"."
The issue is not new. Back in April the owner of a Samsung tablet complained that Windows Update wouldn't work on his machine, and he blamed Samsung for it. At least one other person found a similar issue.
Why did Samsung do this? Will it issue a fix? So far the company isn't talking. So for now, if you've got a Samsung machine, assume that Windows Update is disabled and make sure you've got good security software running.