You've probably heard by now that the latest version of iOS no longer supports Home Sharing. To substitute for this lost functionality -- as Jared Newman astutely noted -- many users will now likely turn to Plex or Subsonic. Shortly after reading Jared's report, I decided to look on the bright side, and to accept the loss of Home Sharing as a challenge.
So after a caffeine fueled hack-fest of experimenting, script writing, and app testing, I created the following nine step process for my Mac OS X Yosemite machine, a process that could also enable you to stream iTunes music from a Mac to other devices on your home network.
Step 1
Create a new playlists folder under the home directory.

Step 2
Using Finder, share the new folder, making sure the everyone group privilege is read only.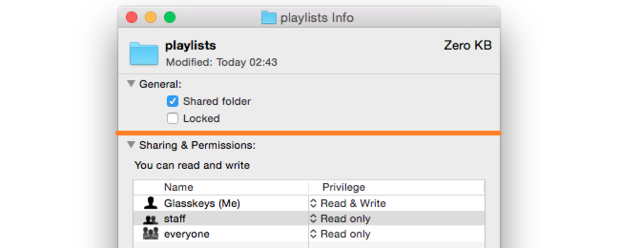 Step 3
Copy the iTunes Music Library XML file, and place it in playlists.

Step 4
Download Eric Daugherty's iTunes Export utility. If you chose the console version, extract the zip file to the playlists folder.
$ unzip ~/downloads/iTunesExportScala-2.2.2.zip -d ./playlists

Step 5
Create UTF-8 M3U files (*.m3u8) based on playlist data contained in the iTunes Library file placed in the folder in Step 3.  
$ cd ~/playlists
$ java -jar itunesexport.jar -fileTypes=ALL -useM3U8Ext -library=iTunes\ Music\ Library.xml

Step 6
List all m3u8 files in the playlists directory:

Step 7
Download my playlist.sh script from Github and place it in the playlists folder. This script transforms all of the "file:///" music links found in the original playlist to web URLs in a new m3u file, using the local machine's internal network IP as the webserver address.
This screenshot shows how I ran the script using a rock-n-roll playlist file name  (Rock.m3u8) as parameter. The script used information from the m3u8 file to create a new "URL based" playlist file named Rock.m3u.
$ chmod +x playlist.sh
$ ./playlist.sh Rock.m3u8

Step 8
Return to finder to view Home's Music folder information. The Shared folder property should be checked and enabled.
Next, click the everyone group -- found in the Sharing and Permissions section. This too, should have a read only privilege. If all looks well, click Apply to enclosed items...

Step 9
Finally, open terminal to find Apache's DocumentRoot folder location. Create a symbolic link named Music in this location, linking it to Home's Music directory (~/Music).
$ cat /private/etc/apache2/httpd.conf | grep 'DocumentRoot "'
$ sudo ln -s ~/Music /Library/WebServer/Documents/Music

You now should be able to share iTunes music to phones, tablets, and other desktop computers connected via Wi-Fi to your Home's internal network.
iOS
For the iPad and iPhone, use the Goodplayer app to download the playlist file and stream music from your Mac's Apache server.
I downloaded the Rock.m3u playlist from my Mac's playlist folder via the SMB/CIFS Client menu:

Navigate to the Download folder and tap the Rock.m3u file.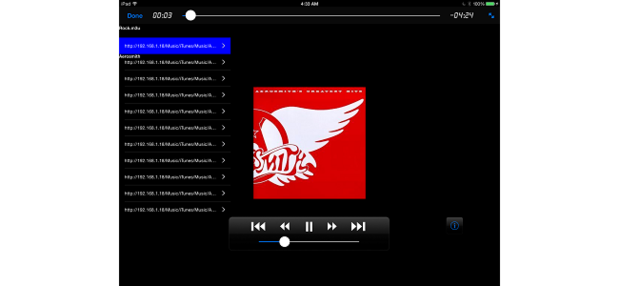 Desktops\Laptops
In a technique very similar to iOS, download the m3u playlist file using explorer or other file manager, then use VLC to play the music stream: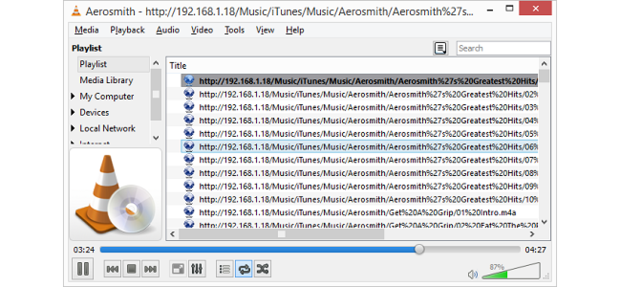 This article is published as part of the IDG Contributor Network. Want to Join?