Here's why the new, free Quip may be the best alternative to Microsoft Office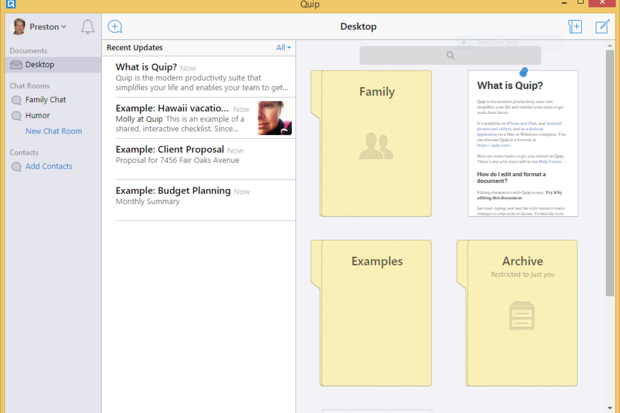 The excellent Quip office and collaboration suite just got better -- it's now got desktop apps for Windows and the Mac. It could well be the best alternative to Office -- and it's free.
As I've written before, Quip is a great combination of office suite, collaboration tool, and cloud storage service. Until now, it was available for iOS, Android and via the Web. So PC and Mac users didn't have a true local application.
Now that's changed. Not only do PC and Mac users have a local application, but they can work on files when their devices aren't connected to the Internet, and then sync them when they have a connection. When you first install Quip on a PC or Mac, it downloads all of your files so you have local copies. It then syncs as you work.
Quip is great at collaboration on word processing documents and spreadsheets. Collaboration isn't an afterthought. It's built right into the application itself. You create shared folders so that other people can add documents to it, or collaborate on existing documents. Collaboration can be real-time so that multiple people can make edits at the same time and see what other people are doing.
There's also integrated messaging and chat so you can talk with one another while working on documents together. It also works with Apple's Handoff feature for having a document move from Mac to iPhone to iPad.
It's free for personal use, but businesses are charged for it. Companies including CNN among others use it.
Shop Tech Products at Amazon