UPDATED: An Italian tech site with a focus on chips and technology claims it has evidence that AMD is making a custom CPU/FPGA for a customer, which means AMD is following in Intel's footsteps in embracing the FPGA processor.
A Field Programmable Gate Array processor is different from x86 in that it can be reprogrammed on the fly to handle different tasks, and it specializes in doing simple, repetitive tasks extremely fast. In particular, it's good for searches because the data constructs can be as wide as needed, whereas a x86 processor can only handle a 64-bit construct. This means doing a search in one pass vs. doing it in multiple passes on an x86 because it can only do so large of a search in one clock cycle.
Microsoft has given the notion of FPGAs in search a huge boost with its Project Catapult, where it used FPGAs in conjunction with Xeon CPUs in Bing servers. Thanks to the FPGAs, Bing searches were up to 40 times faster when compared to just x86 servers.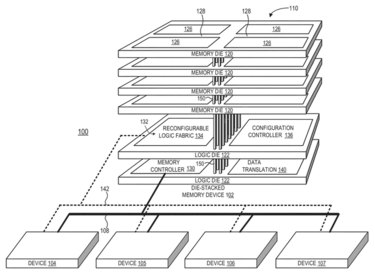 In addition to AMD tech and the FPGA, the design also reportedly uses the High Bandwidth Memory 2 (HBM), which would offer extremely high speed interconnects between the CPU cores and the FPGA and between the CPU and memory. It promises 2Gbps of speed per DRAM pin and 256GBps of bandwidth in a DRAM stack.
And AMD could use the boost on the server. Its market share for Opteron has dropped to single digits, according to Mercury Research. The Opteron is used in a number of supercomputers but overall has been trounced by Intel's Xeon.
AMD already has great SoC deals with Sony and Microsoft to provide chips for the PlayStation 4 and Xbox One but is pursuing more custom silicon deals. During an earnings call last year, CEO Lisa Su hinted at a pair of new wins.
"Relative to our new semi-custom design win pipeline, I am very pleased to announce we have secured two new wins, accomplishing our goal to close one to two new semi-custom wins this year.
"These new semi-custom SoCs are expected to deliver combined total lifetime revenue of approximately $1 billion over approximately 3 years. Design work for these opportunities has started and we anticipate first silicon revenue in 2016."
She did not go into details, only to say it was "beyond gaming." WCCFTech speculates one of the customers is Facebook.
So now comes the questions. First, who is the partner? The deal was struck before Intel bought Altera and cozied up with eASIC so it could be either of those two, which would be a bit awkward, or AMD could have gone for the leader in the field, Xilinx. Xilinx would make a good partner and – since everyone wants to find a buyer for AMD – a good potential suitor.
Second, how long has this gone on? Integrating semiconductor IP is not something you do overnight. Look how long it took Intel and AMD to marry GPU and CPU technology. AMD's work started in 2006 with the ATI acquisition. FPGA won't be any easier. If Su expects first revenue this year, she's either very optimistic or this has been going on for a while.
Third, will it be an older, Jaguar core-based Opteron or a new one running the Zen core? Believe me that will make a difference. But it would also introduce a lot of risk, a brand new core merged with a whole new type of core and if development started more than a year ago, it's doubtful Zen was ready.
It's a lot of speculation for a single source story from a previously unknown site, but you never know. Su has said a new IP is coming, the question is what.
(This story has been updated to include the Facebook rumor and HBM2 information.)