Microsoft Snip: Is this the best free Windows screen capture tool ever?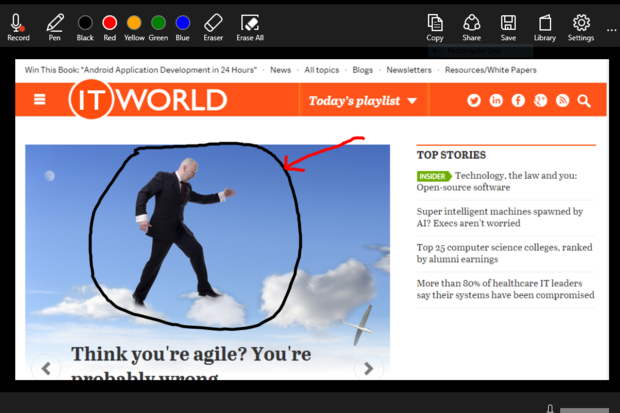 If you need to capture screens in Windows, rejoice: Microsoft's new Snip is a great free tool. But is it the best free one ever?
I've been using screen capture tools for longer than I want to remember, and am always on the search for good free ones. The beta of Microsoft's Snip is one of the best I've tried. It's extremely simple to use. It runs discreetly at the top of your screen. When you want to capture something, just click it and then click the capture icon. That's all it takes.
Capturing screens is just the beginning of what it can do. You can then annotate your screen capture by drawing on it or recording audio. You can also record drawing on it and recording video as well --- something I haven't seen other free tools do.
Once you've captured and annotated a clip, you can share it with others. At the moment you can only share it using Outlook email. I'd expect more ways to share in the future.
That's not to say Snip is perfect. It needs a timer so you can capture menus. The record feature is nice, but needs to be improved --- you should be able to record screencasts of apps as you use them, not just be able to record on top of a clip. Annotating should be improved as well. You should be able to type onto a clip, for example. For the moment, to do all this you'll need to pay for a screen-capture tool like the for-pay one that I favor, Snag-It.
Still, free is free, and Snip is great for most captures. I'll have to wait for the final version to decide whether it's the best free capture tool of them all.
Shop Tech Products at Amazon