Many companies and individuals use Amazon S3 and Google Cloud to store massive amounts of data in the cloud. Backup service provider Backblaze has just rolled out a much lower cost option that competes with these cloud storage providers. Called Backblaze B2, it costs just $0.005 per GB a month and you get the first 10 GB free.
B2 works similarly to Amazon S3 and Microsoft Azure. You upload your files--an unlimited amount, whether it's 1 MB or 100 petabytes--and only pay for how much space you use. There's a web interface, an API developers can use to integrate B2, and the option to use the command line (CLI) to script your uploads and downloads.
As with other large cloud storage services, B2 charges you not just for space used, but also when you download or access files from the service. For this reason, this might not be the best option for people who are looking for a Dropbox or Google Drive alternative (those give you a set amount of space that automatically sync with your devices), but rather developers and IT folk for hosting data online.
In addition to the inexpensive price, B2 works on iOS and Android, keeps unlimited file version automatically if you want, lets you set spending caps and alerts, and allows you to package files for downloading or delivery on a USB hard drive.
Here's a chart comparing storage and retrieval costs among the major providers: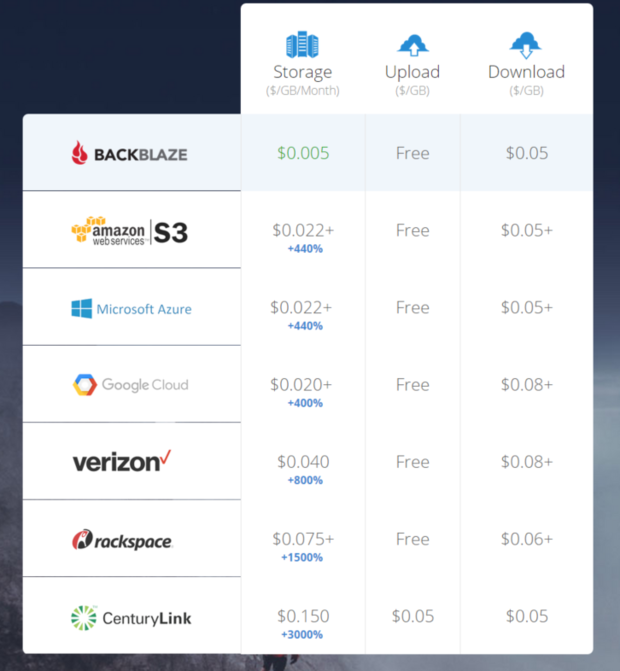 I've been using Amazon Glacier as a secondary backup/archiving tool for my large collection of photos and videos, but Glacier's tiered pricing gets confusing and it also lacks a good app for managing the storage space. At half of one cent per GB, this is a pretty attractive alternative.
You can get the first 10 GB of storage free, so it doesn't cost you anything to try it out. You might have to be patient, though, since the service is currently in private beta and you'll have to join the waitlist before checking it out.
B2 Cloud Storage | Backblaze
(Disclosure: As a freelance writer, I occasionally contribute articles on backups and storage to Backblaze. I was not in any way compensated for this post.)