Today's README file topic concerns QR codes on the Windows Phone platform.  We examine different techniques of scanning and generating QR codes, as well as a tricky browser method you can use to create and save codes locally on your phone.
QR Code Reader

QR Code Reader is by far the easiest way to scan QR codes on Windows Phone. It also excels at deciphering the type of smaller, resized QR codes commonfly found embedded on web pages that confuse most scanning apps.
The app is "optimized for Lumia phones," and running on a Lumia it scans QR codes so fast, it almost makes you believe it is always running, churning in the background, eager for attention so that it may show-off scan results.
So if you're budget conscious and need a good scanning app, download the free QR Code Reader app from the Windows Store here.
QR for Cortana         

If you've enabled Cortana on your Windows phone and miss the old Bing Vision app, you'll probably like QR for Cortana. Because Cortana supplanted Bing as the default search app, QR for Cortana restores the missing Bing Vision functionality. To use it, open the app and select the Bing Vision lens.
Bing
If you're running an older version of Windows Phone 8, or if you're a die-hard fan that still prefers Bing over Cortana -- you're in luck -- because it means you can use Bing's built-in QR code scan tool.
Start search with the magnifying glass button at the bottom of your phone.

The Bing app opens, tap the "eye-con" to start QR Code scanning.

Bing's scanner isn't as fast as QR Code Reader -- or as good -- but for most use cases it's sufficient enough to do the job.
Generating QR codes
We've covered scanning on Windows Phone, but what about creating QR codes? If you need an app, try the well-reviewed QR Code Generator app from the Microsoft Store.
But you can also use another, tricky technique to generate QR codes. First, open Windows Phone's Internet Explorer app and set it to desktop mode. Browse to Bing.com and search for "QR code generator" -- Bing places its built-in QR code generator near the top of the search result list -- a tool that's available only for "desktop" browsers.
Type your text or URL into the field followed by enter. The generator then refreshes the default image, replacing it with your new QR code.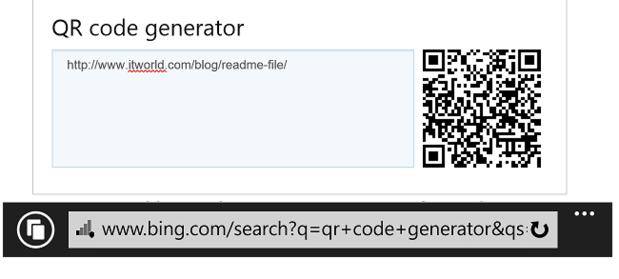 Finally, tap and hold your new QR code -- save it as a picture or send it to others via Windows Phone's sharing feature.

This article is published as part of the IDG Contributor Network. Want to Join?