The Bing homepage often features stunning or at least interesting photography, but you can't just right-click on the page to download a photo you like to your desktop. Luckily, Bing has a gallery for downloading featured wallpapers from the last 5 years.
Head to the Homepage Gallery and you can even filter the selection by categories (e.g., travel, animals, space, sports, and so on), tags (e.g., insect), holidays, places, and region. You can even filter by color theme.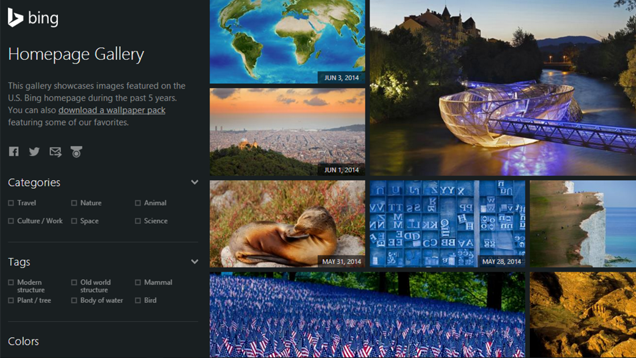 Click on the photo you like to read more about it and download it in high-def 1900x1200 resolution (license is restricted to you using it as a desktop wallpaper only).
For an automated way to get the Bing homepage on your desktop, you can download the Bing Desktop client, which adds other Bing search and widget features, but I like browsing and picking the wallpapers that speak most to me (baby animals!). 
[h/t Into Windows]
Melanie Pinola's Tech IT Out blog and follow the latest IT news at ITworld. Follow Melanie on Twitter at @melaniepinola. For the latest IT news, analysis and how-tos, follow ITworld on Twitter and Facebook.