Is your neighbor a Democrat, Republican, or Independent? If his lawn signs don't give that away, a free iPhone app from the Obama campaign just might.
The Obama for America app is for volunteers who are willing to go door to door to register voters, recruit other volunteers, and get out the vote. You can also use it to donate money, tweet out your support,  or otherwise pitch in for the good fight (or the bad one, depending on your point of view).
To help get out the vote, the app uses your phone's GPS coordinates and pulls data from the state elections board about registered voters in your area. For example, click the Canvass button, and the app determines your location and displays a map showing you the first name and last initial of  registered Democrats within walking distance, along with their address, gender, and age.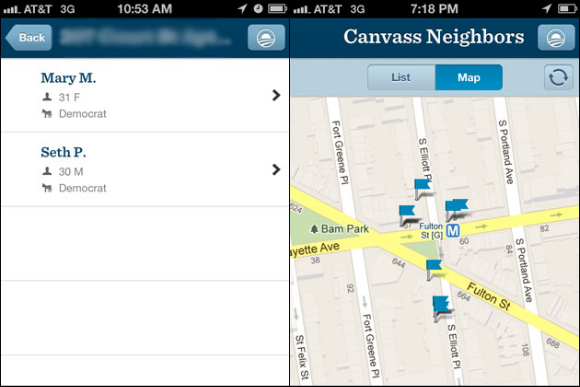 Screenshot borrowed with gratitude from Pro Publica.
The idea is to identify likely Obama voters and get them riled up enough to leave their homes about 92 days from now and vote.  But this level of data disclosure makes some privacy wonks rather hot under the collar.
Shortly after the Obamanistas released the app, Shaun Dakin, CEO of the National Political Do Not Contact Registry, StopPoliticalCalls.org, sent me the following email:
"There is NO Reason why the app needs to show this information to the public for canvassing purposes. Now I know the age of my neighbors, I know if they are likely Dems, and there is no way to opt out of being part of the system (as far as I can tell). This is a Total Privacy Fail."
My response was somewhat less agitated, for the following reason: Legally, the Obama app is not violating anyone's privacy. All of the information inside it is in the public record. And there are good reasons for that.
When you show up to vote, the kindly blue-haired old lady who checks you in at the polling place needs to a) know that you're old enough to vote, b) know you're in the same precinct where you're registered, c) make sure she hands you the right ballot, assuming it's a primary election in a state that doesn't allow crossover voting.
(Note: The poll workers in my hood are invariably blue haired; your hairage may vary.)