As Mother Nature unleashed her fury on the Mid-Atlantic early this month, like most of the region's residents, Carnegie Mellon University Professor Priya Narasimhan hunkered down for the duration. But cuddled up with a hot cup of cocoa and a good book, she wasn't.
The quintessential social being, Narasimhan twittered away while she watched the snow pile up outside her Pittsburgh window. Monday evening, Feb. 8, as she read tweets from people who had braved the blizzard and were sharing information on passable and impassable roads, Narasimhan had an a-ha! moment.
"With Twitter, this information is shared only among friends and the people who are following each other, so it's kind of an exclusive club from that viewpoint. It seemed like a natural extension to get people to share the information more publically," says Narasimhan, who is an associate professor at in CMU's Electrical & Computer Engineering Department and director of the university's CyLab Mobility Research Center.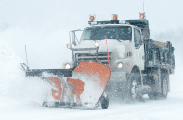 So with crowdsourcing in mind, Narasimhan marshaled volunteers and set to work on a Google Maps-based application that would let anybody share road conditions. From their respective residences, Narasimhan, a fellow CMU faculty member, a PhD candidate and two undergraduate students holed up for the next 36 hours straight and cranked out a crowdsourcing site, How's My Street? Like many a modern work team, they communicated via e-mail and Skype, Narasimhan says.
The development process involved getting the city's feedback. Ease of use was a prime concern, says Bill Peduto, a councilman with whom Narasimhan has worked with on other CMU-city projects. Green, yellow and red tags, because they follow the stoplight convention, made street conditions immediately clear to site visitors, for example, he says. Green meant clear, yellow passable, red not passable.
Simplicity was key, Narasimhan agrees. "We wanted somebody to be able to drop a marker on a street, pick a color or text, and tag it. We wanted it to be accessible from anywhere with a browser. We didn't want to require a logon or storing of user information – none of those things were important. It was really all about getting the word out so everybody could get around safely and not be stuck on a street," she says.
How's My Street? is a great example of how crowdsourcing can help citizens without the government needing to get involved, Peduto adds. "How's My Street? wasn't going to get a plow to anybody's street any more quickly, but it would help people find their way around the city."
Via word of mouth, tweets, Facebook, CMU news, and the Pittsburgh media, word of How's My Street? quickly spread. By Wednesday evening, within hours of going live, 500 reports already had come in to the site. As of this writing, two weeks later, more than 1,600 reports had come in, plus the application has 141 Facebook fans and 105 Twitter followers.
And the word has spread far beyond Steeler territory. Narasimhan has fielded inquiries from people in nearby Mid-Atlantic neighbor Washington, D.C., as well as from as far away as Singapore, for example. How's My Street? clearly has universal appeal, and, since it lays atop Google Maps, anybody anywhere is welcome to use it, Narasimhan says.
As Jiaqi Tan, a CMU alum living in Singapore says, via e-mail, "How's My Street? extends naturally from reporting snow conditions to traffic conditions because they both involve
1. reporting about some measure (amount of snow/amount of traffic) at some location (some
road), and
2. the information is useful only for a relatively short duration (perhaps days for snow pile-ups, and tens of minutes to an hour or two for traffic). With such types of information, it's useful only when it can be quickly disseminated, and since the information becomes outdated so quickly, it also helps to have as many people reporting as possible."
Tan's interest in How's My Street?, which he says he found out about from the Pittsburgh press and CMU's Facebook page, is purely personal. "I'm thinking … that this would be really cool and helpful if I could know which roads were free of traffic jams as I stepped out the door," he says.
With the initial flurry of activity subsided, Narasimhan and her team are now thinking, "What's next?" she says. "We're trying to make sense of the data and everybody's suggestions."
How's My Streeters want to know, for example, if they can post pictures and do real-time navigation. Somebody asked for three, six, 12 and 24 hour windows, which the team has since implemented. "We take the map overlays, translate them and keep track of information in a simple backend database, and display in real time across different time windows," Narasimhan says.
And Narasimhan and team have a few items on their wish list, too. For one, it would like to work with Twitter on a two-way reporting mechanism, she says. For now, when somebody places a marker on the map, the application publishes a Twitter update. (This helps folks who may be out and about with cell phones with access to Twitter but not a map application.) The team would like the reverse to be true, as well, so that when somebody publishes a Twitter update on @howsmystreet, a marker gets placed on the map.
Additionally, Narasimhan also would like to talk with Twitter about foregoing its 150 updates-per-hour limit. How's My Street? reports quickly exceeded that limit in the early hours after the site went live, she says. "As an emergency/disaster response mechanism, it makes a perfect candidate for expanding the limit," she says.
The team also would like to integrate How's My Street? with Pittsburgh's mobile 311 application, Narasimhan says. A cabbie or public transportation driver, for example, could then flag a street as good or bad and, using Global Positioning System information, the application could place a marker on the map as appropriate. The feed could come through the mobile 311 into How's My Street?, or vice versa, she says.
Narasimhan also wonders, she says, whether How's My Street? could team with Google Maps to provide navigation from one location to the next that takes into account passable and clear roads. Her list, really, seems unending – so much so that she's even thinking this volunteer effort may be spun out into a start-up operation.
"Hopefully," she says, "other cities will see this as a nice front-end service they can use, and for free. Crowdsourcing in this way is such a great testament to the human spirit."