11 colorful characters seen at Comic-Con International 2014
Letting their freak flags fly in San Diego.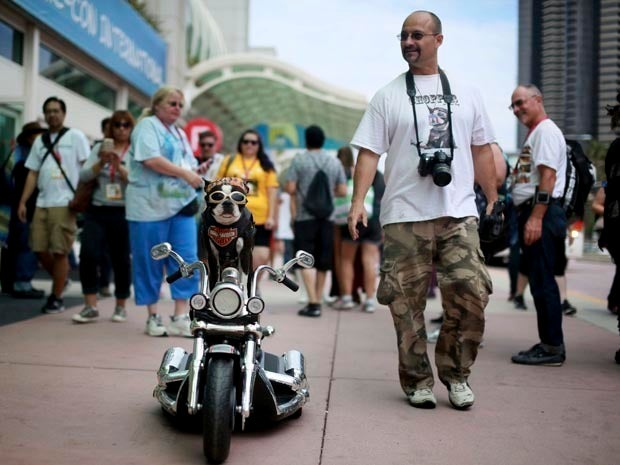 Comic-Con International: San Diego. July 24-27, 2014
Every year, more than 100,000 comic book fans and entertainment enthusiasts descend on the San Diego Convention Center to check out thousands of booths and hundreds of panels set up by industry outlets.

For many of the attendees, it's an opportunity to don elaborate costumes and let their freak flags fly.

Here are some highlights from this weekend's event.


Allie Shaughnessy dressed as X-Men character Mystique.
A costumed man who gave his name as Nomad walks outside of the San Diego Convention Center.
Costumed attendees dressed as characters from Guardians of the Galaxy.
Maia Blackman dressed as Lorne from the television series Angel.
Jill Olsen (R) has her picture taken inside a giant cocoon, from the "Falling Skies" TV series.
Lori Roulette, dressed as a character from "Alice in Wonderland".  
Attendee Eric Gorton, dressed like the character "The Riddler", attends a panel for the movie "Goosebumps".
Ollie the French Bulldog, dressed in a "Shazam" costume.
People dressed like characters from the Batman movies. 
Next Up: Check out these related slideshows